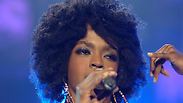 Lauryn Hill. Second visit to Israel
PR photo
American R&B, soul and hip hop singer-songwriter Lauryn Hill will play one concert in Israel on May 7, at Rishon Lezion's new Live Park amphitheater.

She will perform her solo hits as well as songs from her former band, the Fugees, and Bob Marley classics.

Ticket prices will range from NIS 219 to 499 ($55-125), depending on the seat's location.

Hill was born in New Jersey in 1975. In 1992, she founded a music group called Tranzlator Crew together with rappers Wyclef Jean and Pras Michel. The trio later changed its name to Fugees.

Hot Summer

Disco superstar known for hit 'I Will Survive' set to arrive in Israel, give July show.

The group's second album, "The Score," became one of the biggest hits of 1996 and one of the best-selling hip-hop albums of all time. It included the hit song "Ready or Not" and a cover of "Killing Me Softly with His Song."

In 1998, Hill released her solo album "The Miseducation of Lauryn Hill," which was a great success and earned her five Grammy awards, including Album of the Year. It included the hits "Doo Wop (That Thing)" and "Everything is Everything."

In addition to her musical career, Hill also appeared in a number of films and TV series. She is also socially active, mostly helping at-risk urban youth.

In recent years, Hill has kept away from the limelight. Her last album, "MTV Unplugged No. 2.0," was released in 2002. Since then, she has been known for criticizing contemporary pop music and controversial live performances.

In 2013, she served a three-month prison sentence after pleading guilty to tax evasion for failure to pay federal income taxes on $1.8 million earned between 2005 and 2007.

Hill has six children, five of them with Rohan Marley, the son of reggae legend Bob Marley.

This will be Hill's second visit to Israel. She first performed here in 2007 with a hoarse voice which prevented her from properly performing her songs.

Lauryn Hill is being brought to Israel by the Zappa Group and producer Avi Yosef.