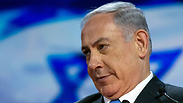 Benjamin Netanyahu. Not as confident as he seems
Photo: AFP
Prime Minister Benjamin Netanyahu stood there on Sunday afternoon – his wife, Sara, by his side, the red carpet beneath his feet, an El Al jet behind him, facing an array of microphones – and spoke about going on a "historic, even fateful, mission."
A former senior defense establishment official, observing the event, whispered quietly: "He's barking up the wrong tree." Or, in other words: Fateful, my ass.
Congress Address
Op-ed: Most Congress members don't know much about foreign policy, but they do know politics; they will assume it's Netanyahu's performance in the polls and not Iran that brought him over at this time.
Netanyahu is wrong and he is misleading the public. Instead of taking action acting against Iran and looking for ways to delay Iran's race to become a country with nuclear weapons, he's declared war on America.
Now, by means of individuals working behind the back of the US president, and with the help of the Republicans in Congress, he's hoping to scuttle the agreement between Iran and the world powers. In practice, however, with the talks already at such an advanced stage, the chances of preventing an agreement have gone – sad, but true.
Iranian President Hassan Rouhani and his foreign minister, Mohammad Zarif, have successfully driven a wedge between the US and Israel. The Iranians, with their policy of smiling at the West and the help of a fair deal of guile and negotiating skills, look set to retain the ability to decide in the future to manufacture a nuclear bomb. Tehran is laughing, while Jerusalem laments the gradual demise of a strategic alliance.
Thus, in both speeches, Netanyahu will strive to crudely glue together the shards of the pitcher he has shattered. He will try to appease US President Barack Obama with words of gratitude for all the good he has heaped on Israel, particularly insofar as the security of its citizens are concerned; and at the same time, we will surely hear him voice several hollow declarations about his responsibility to prevent a second Holocaust.
Behind the scenes, in contrast, the level of self-confidence is not quite as high. Likud spokespersons were again sent off on Sunday to the television studios to defend the eager-to-speak prime minister, labeling as "leftists" anyone opposed to the trip – including a long list of former generals, pilots and Mossad chiefs whose bodies bear battle scars and whose mouths voice criticism of the prime minister's actions.
Based on the intensity of their defense, one can only assume that members of the prime minister's party fear that this trip will lead to his downfall in the elections, and will be remembered in fact as his last trip to Washington in his current senior position.
When it comes to the bottom line, on the other hand, things are clearer, and Netanyahu's trip to Washington and address to Congress will be an illustration of his two colossal failures as prime minister – turning Iran into a nuclear threshold state under the umbrella of international legitimacy, and the destruction of the extensive fabric of relations so critical to our security with the US administration.
It's enough to quote the words voiced on Sunday by Dianne Feinstein, former chair of the Senate Foreign Relations Committee and an individual who has made a significant contribution to Israel's security on issues of vital importance: "No, (Netanyahu) doesn't speak for me on this," she said. "I think it's a rather arrogant statement."
The conclusion to be drawn is that Netanyahu is in Washington less so as a prime minister concerned for the security of his citizens and more so as a pyromaniac.