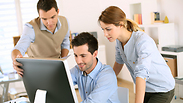 Illustration
Photo: Shutterstock
A $200 million Singaporean government-backed fund is planning its first-ever direct investments in Israeli tech startup companies, hoping to build on increasing interest in Asian markets among Israeli companies.

A shift in focus towards Asia among Israeli companies is picking up pace amid a combination of Asia's growth prospects and domestic concerns that policies such as Israel's construction of settlements could ultimately attract trade sanctions.

At the same time, tech-hungry Asian countries, particularly China, are boosting their investments in Israel, a hub for innovative fast-growing companies.

Alex Lin, head of Infocomm Investments, part of Infocomm Development Authority of Singapore whose brief is to develop the city state's own IT systems and services, told Reuters he was talking with several Israeli start-ups but did not say how much investment was planned or in what companies.

The average size investment would be between $1 million and $5 million, though not all companies the fund helps break into Asia require funding, Lin said.

This would be Infocomm's first direct investment in Israeli companies, although it has had exposure to Israeli technology through its involvement in venture capital fund Vertex, one of the early investors in navigation app Waze, acquired by Google Inc for $1 billion.

Having focused on a previous trip on cyber security companies, of which six or seven are likely to set up in Singapore, this time he met with eight financial technology companies.

These included Colu, which uses Bitcoin technology to provide access to everyday purchases and possessions, and Neema, which enables users to open bank accounts based on virtual currency.

"Our interest is to build up financial technology in Asia and capitalize on the financial boom in Singapore and Shanghai," Lin said.

Israeli companies traditionally sought first to expand in the United States, he said, but competition there is a problem. "The US market is getting congested so Israeli companies are looking eastward."