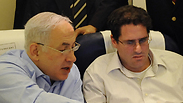 Netanyahu and Dermer (Archive)
Photo: GPO
As talk of a major rift between the Israeli government and the White House became increasingly ubiquitous in the days leading up Prime Minister Benjamin Netanyahu's departure on Monday to Washington, Ron Dermer – Israel's ambassador to Washington and an associate of Netanyahu – was in Jerusalem.
The embassy and Prime Minister's Office declined to say how many days Dermer spent in Israel, but senior sources said he stayed at a Jerusalem hotel at least ten days before joining the prime minister's flight to the United States.
Dermer kept a low profile during his visit, spending more of it advising with Netanyahu and writing the speeches to be delivered at the AIPAC conference and in Congress.
Video: Reuters (צילום: רויטרס)
Senior political sources criticized the ambassador, saying it would have been appropriate for him to stay in Washington and attempt to handle the current diplomatic tensions. One senior source said Dermer was functioning as a campaign adviser for Netanyahu and not just as his speechwriter.
Dermer visited Israel early last month to take part in a diplomatic conference for Israeli ambassadors to North America. Dermer told the ambassadors that Netanyahu's speech was worth the price of harming relations with the US.
Dermer brokered House Speaker John Boehner's invitation to Netanyahu without consulting the White House, and even hid the negotiations from Secretary of State John Kerry despite having a personal meeting with him a day before Boehner publicly announced the invitation.