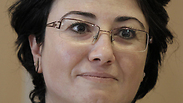 MK Hanin Zoabi gets drink poured on her head by student at panel discussion.
Photo: AFP
An election panel has ended in violence after a firebrand Arab lawmaker was allegedly attacked by an Israeli student in central Israel Tuesday.
The incident took place at Ramat Gan College of Law and Business and according to suspicions and a video obtained by Ynet an Israeli student poured a soft drink on MK Hanin Zoabi, known for her polarizing views on Israel and the Palestinians.
MK Hanin Zoabi get soft drink poured on her head.
Zoabi was recently barred from running in the March 17th elections, but the High Court later overturned the ban, allowing her to vie for reelection as part of the United Arab party list. Zoabi is originally a member of the Balad party – a party with a strong nationalistic Palestinian strain.
According to the police, during the event, a 28-year-old man from Ramat Gan was arrested for allegedly throwing a bottle at the lawmaker. A Palestinian flag was also waved and might have triggered the violent protest by radical rightwing activists.
The event was also attended by a number of far right activists from the anti-Arab Otzma Yehudit (Jewish Power) party, including Baruch Marzel, who was also banned from running – a ban that was overturned as well.
Before the event, Marzel wrote on his Facebook page "Zoabi, I'm coming for you". In the post, the rightwing politician slammed the college for agreeing to host Zoabi. He urged supporters to meet him outside the event and help him "wipe that smile off her face."
After the incident, the party posted an image on their Facebook of Zoabi wiping herself from the liqud thrown at her, with the text "We kept our promise. We wiped her smile away".
In a statement, the far right party wrote that "We regret that the police are creating drama from this event. Zoabi was being provocative and we will demand that they release (the activist)."
"The current election campaign continues the wave of racism, exclusion, and violence that characterized the latest government's tenure," said Aiman Uda, chairman of the United Arab List. "It's sad to see that even in academic institutions, it is no longer possible to have an open dialogue and present an array of opinions.
"The violence against MK Hanin Zoabi and her team derives from serious and dangerous statements by public representatives who, rather than behaving responsibly, incite hatred and anger in an attempt to gain votes at the ballot box. The united list will continue to act against violence and to encourage a far and democratic debate."
Labor MK Michal Biran said that during the chaos, she was elbowed in the stomach and almost knocked off a flight of stairs. "It was violent and shocking," she said. "Both sides arrived already riled up and did not allow us to restore calm."
The college condemned the incident, saying it was a provocation on part of both Marzel and Zoabi.
History of violence
This is not the first time an Arab lawmaker has been attacked: In 2012, a young girl spat at MK Ahmad Tibi (United Arab List-Ta'al) was following a political debate at Bar-Ilan University. The incident also took place at an event involving the far right party - then called Otzma LeYisrael (Strength to Israel).
Arab students claimed that at least three people had spat at Tibi, while Jewish students said just one girl had done it.
In the same year, then-MK Anastassia Michaeli (Yisrael Beiteinu) threw water at MK Ghaleb Majadele (Labor) after he called her a "fascist."
"Majadele will learn not to insult women. He hurt the honor of the Knesset and of this place," Michaeli said afterwards. She was later sanctioned for he actions by the Knesset and was also removed from the party's ticket during the following election.
Hassan Shaalan, Moran Azulay and Itay Blumenthal contributed to this report