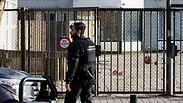 Police guard a Jewish school in Amsterdam after a wave of terror in Europe.
Photo: AP
If Europe is struggling to make a place for Muslims, it's because of a severe identity crisis.

The identity of "Jihadi John," the executioner with the British accent who has starred in several horrific scenes posted by the Islamic State, is now known. Mohammed Emwazi, as he is called, was born in Kuwait in 1988 and immigrated to Britain with his parents at the age of six. He was once a perfectly normal London boy, loved football and pop music and was a rather good student, good enough to be accepted to the University of Westminster in London.

What prompted this young man, described by all his friends and acquaintances as a paragon of kindness and sociability, to turn into a bloodthirsty monster under the auspices of an organization of fanatical murderers? One of his countrymen gave his answer in the Guardian on February 26: The cause for all this, explained Maajid Nawaz, is the ambient racism. Islamism and racism are twin brothers, they meet each other and reinforce each other. How does he know? Well, he's been there. "I have been radicalized," he proclaims, "so I understand how extremists exploit grievances."

Europe Today

Op-ed: The Westernization of the Arab world has been replaced with the Islamization of Europe. The Arab League boycotted Israel from its very first day, and the 'European Union' with its new Muslim masters may now follow in its footsteps.

If only it were that simple. If we do not quite see how the supposed racism in London leads to cutting off heads in Iraq, and also Muslim heads for good measure, there is a reason: Emwazi, from a middle class background, did not particularly suffer from racism. Much less so Maxime Hauchard, the convert from a quiet town in Normandy, who was seen to participate in the live beheading of 18 Syrian prisoners last November. What binds them it is not prejudice, real or imagined, but an interpretation of Islam whose murderous radicalism not only doesn't frighten them, but is exactly what creates such a strong appeal in their eyes.

In fact, there are a variety of psychological, familial, cultural, and social motivations, which, if properly mixed with an adequate packaging in a proper environment (neighborhood mosque, prison, the Internet), lead to a jihadist adventure. That is why there is no longer a composite sketch of the jihadist, since the profile now hails from all social classes, all different backgrounds, all levels of education, and even all religions. And that is why the hunt for jihadist candidates has become so difficult.

But why has Europe started producing jihadists? It is primarily a matter of demographics and geography? Jihadist Salafism is the political ideology of a Sunni world in full upheaval, located at the gates of Europe, and it was inevitable that it would find its followers among some 20 million Muslims, some of whom live on the margins of society and face enormous identity issues.

When Barack Obama flexed his muscles by suggesting that if the old Europe had known to treat its Muslims as the United States has treated their own, it would not be facing the problems it has, he didn't really say anything. Some 2.5 million Muslims in a population of 320 million, which is less than once percent, obviously do not have the same weight as, say, five million French Muslims in a country of 65 million, about 8 percent. It is rather with the African-Americans that a meaningful comparison should be made, which would throw a less flattering light on the presidential remarks.

It then seems to be a question of economic absorptive capacity. Europe simply isn't strong enough to integrate masses of aliens and ensure them a decent life.

And finally, perhaps most importantly, it is a case of moral capacity. Surely it was easier in the past to integrate Poles, Spaniards, Italians or Jews, than Muslims today. The "anti-racist" left reject the allegedly "essentialist" cultural argument that there are no socio-economic causes for the Muslim unrest. But we can chase the culture out the door, it will come back through the window. If there were, for example, not a half million, but ten times as many Jews in France, and a good half of them were ultra-Orthodox, how do you think they would integrate into society? Yet, the Jews don't convert others, and, unlike Muslims, who are for the first time in history reduced to a minority status, they have been used to this status for two millennia as diaspora.

However, the failed integration of European Muslims is not their fault alone, far from it. If Europe is struggling to make a place for Muslims, it's because it doesn't know who it is. It first and foremost suffers from an identity crisis. When a nation is in trouble and a united Europe is unable to compensate, when its education system is collapsing and its inner workings, produced by centuries of history, are carefully buried under the guilt and/or the selfishness of the elite, unable to withstand the demagogues from the extreme right or extreme left who occupy the deserted field, how can it integrate others?

Any integration undertaking is a contract between the immigrant and the host society, a pact based on a value system. If the host society says that it doesn't believe in its own value system any longer, what the devil is the foreigner supposed to join?

Perhaps the immensity of the challenge will force Europe to rethink. After all, this is not the first time that this highly ideological continent produced monsters whose violence left it breathless. Each time, it was able to recover. Hopefully this is still the case.

Elie Barnavi is an essayist and historian, professor emeritus of modern history at Tel Aviv University and former Israeli ambassador to France. This article originally appeared on i24 News.