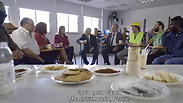 A new Likud campaign ad released on Thursday effectively compares government workers to Hamas terrorists. The video, filmed at a "support group" meeting, shows actors playing a dock worker, a regulatory agent, a former cellular executive, and a Hamas terrorist commiserating about how Netanyahu's policies have hurt them.

The ad opens with the actor portraying a dock worker saying, "I am here because of Bibi. After his reforms I suddenly had to start working, to start providing service to the public."

Likud attack ad (in Hebrew)

Next up is Rivki, from Israel Broadcasting Authority, who says "I am here because of Bibi. What can we say, us broadcast authority collectors; from whom will we steal money for no reason?"

The actor playing a former cellular executive then chimes in, "We took however much money we wanted from Israelis. Bibi finished us off."

The national union chairman, Avi Nissenkorn, slammed the Likud over the advert. "A clip which dares to compare between workers and murderous terrorists crosses the line. This is an infuriating position which has no place in Israeli discourse. We must condemn this phenomenon, and the Likud and its chairman must apologize to all Israeli citizens."

Members of the Ashdod port union committee harshly criticized Netanyahu for the insensitive campaign action. "The Ashdod dock workers are shocked that the Israeli prime minister compares employees – loyal citizens of the State of Israel – to Hamas terrorists. You should be ashamed."

"Maybe the distress you are in muddled your understanding; the threat to the State of Israel is not the workers and the employees, it is you, Mr. Netanyahu," they added.

Zionist Union MK Shelly Yachimovich lashed out at the prime minister on Facebook. "The clip distributed by the Likud today of the supposed 'reforms' it implemented, which starred Netanyahu himself, is a despicable and unforgivable attack ad on workers."

In response, the Likud released a statement. "This was an advertisement which covered several of the government's achievements with a humorous tone for the Purim holiday. There was no intention to compare anyone to Hamas or to hurt the many dedicated workers. The clip will no longer be screened and we apologize if anyone was offended."

Matan Tzuri, Attila Somfalvi, and Gilad Morag contributed to this report.