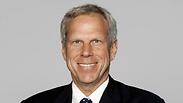 Billionaire film producer Steve Tisch has bestowed a $10 million gift to the Tel Aviv University Department of Film and Television, Variety announced last week.

The department will now become the Steve Tisch School of Film and Television. Tisch told Variety that he decided to make the donation after serving as honorary chair of the Tel Aviv Student Film Festival last year.

"It was a transformative experience, and I felt a real connection to the school – to the students, the professors and the program," he told Variety. "I went to Israel with high expectations, and my experience was just so positive."

Screenwriter Gideon Raff ("Homeland") told Variety that the donation was a "milestone" for the local industry. The newspaper noted that the gift would allow the department to buy state-of-the-art equipment, help attract top-tier professionals to the ranks of its faculty, fund scholarships, and collaborate with other countries.

Tisch also said he would consider co-producing an Israeli film. "If it's the right material and the script is right, I'm very open to that," he told Variety. "To have an opportunity to be so involved in the education of young students in Israel and the Middle East is the icing on the cake."

Last year, "Paris on the Water," a movie by Israeli director Hadas Ayalon, was one of three winners in the foreign film category of the 2014 Student Academy Awards. It was the first time a film by a Tel Aviv University student had won the award.