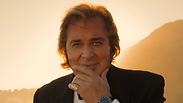 Veteran English pop singer Engelbert Humperdinck will return to Israel for two concerts this summer.

Humperdinck, "the king of romance," last performed in Israel in late 2011 and promised to come back following the successful show. He first performed in the Holy Land in the 1970s.

His two concerts will be held at the Charles Bronfman Auditorium in Tel Aviv on June 2 and 3. Ticket prices will range from NIS 199 to NIS 699 ($50-175).

Humperdinck was born Arnold George Dorsey in Madras, India in 1936. He began his musical career in the 1950s. At his agent's advice, he adopted the stage name "Engelbert Humperdinck" after the German 19th-century composer of operas, who is best known for "Hänsel und Gretel."

Throughout his career, Humperdinck sold more than 150 million albums and released huge hits such as "Release Me," "The Last Waltz", "After the Lovin'" and "A Man Without Love." In 1988 he won a Golden Globe Award as entertainer of the year, and in 1989 he was awarded a star on the Hollywood Walk of Fame.