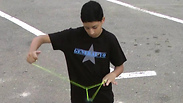 Tal Mordoch shows off his skills
Photo: YouTube
If you thought a yo-yo was merely a toy to buy for a few shekels for a kid's birthday goody bag, you probably aren't familiar with Tal Mordoch. Last Saturday, the 16-year-old from Ramat Hasharon captured second place in the 2015 European Yo-Yo Championship in Krakow, Poland, and he is already training hard for the World Championships in Tokyo in August.
"I practiced a lot ahead of the competition," says Mordoch, a 10th grade student at Rothberg High School in Ramat Hasharon. "I knew I had a chance of finishing in one of the top spots; but when they announced I had won second place, I was over the moon."
Tal competing in Prague last year
Twelve Israelis participated in the event in Poland, with some paying their own way and others making the trip with the help of sponsors.
"The competition was made up of three rounds – an artistic performance, tricks without music, and a freestyle routine to music," Mordoch said. "I scored high in all the categories, and that got me the medal for second place. I even managed to beat the 2013 world champion from Hungary. First place went to a guy from the Czech Republic."
Israeli yo-yo champion Mordoch participated last year in the World Championship in Prague, where he finished in 30th place. He now has his eyes set on the upcoming World Championship in Tokyo. Before then, however, he will compete in the Israeli Championship, which takes place at ZOA House in Tel Aviv at the end of May.
"Winning second place is definitely a great honor," Mordoch says by phone from Krakow. "It's really cool after all the endless practicing I did over the past few months with the yo-yo, and there's no one happier than me about the win."
Or perhaps there is. "Tal practiced constantly and achieved a very impressive and respectable result. We're proud of him and eagerly await his return to Israel," says his mother, Galit.