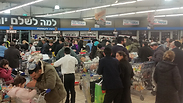 Osher Ad supermarket (archives)
Photo: Eli Mandelbaum
A sign calling on customers to dress modestly has been removed from a supermarket in Jerusalem's Talpiot neighborhood following residents' complaints.

The sign, which was posted in the Osher Ad supermarket located in the Hadar Mall, requested visitors "to respect the store's customers while they visit the store and dress in modest clothing." It was removed by the store's managers following a demand from the mall's management, which had received complaints from local residents.

Growing Radicalization

After targeting women's pictures, radical haredi groups in Beit Shemesh take on written word as well.

Osher Ad is an ultra-Orthodox supermarket chain which opened its Talpiot store in September and angered local residents with the demand to dress modestly, which they say doesn't match the neighborhood's character.

"The chain chose to enter this neighborhood and should respect the area, not the other way around, because we are its target audience," says Roni Hazon Weiss, secretary-general of the city's Yerushalmim faction and a Talpiot resident, who approached the Hadar Mall's management last week over the offensive sign.

"You have to understand how such a sign affects women. It hurts their heart and soul. This constant occupation with modesty is unacceptable and simply irrelevant. There is no reason to engage in people's clothing while they shop. The next step will be to place a box with scarves, like what happened in Beit Shemesh."

The Hadar Mall offered the following response: "Immediately after learning about the sign placed in the Osher Ad store, which orders customers to enter in modest clothing, the mall's manager, Eyal Sakoza, personally turned to the store's management and asked that the sign be removed immediately, and that's what happened.

"The Hadar Mall is open to all sectors. That's the way it was in the past and that's the way it will be in the future. We apologize if the sign offended any sector."

Osher Ad declined comment, but following a customer's appeal on its Facebook page, the chain stated that "we don't tell anyone how to dress. The sign contains a request to show consideration towards all customers."