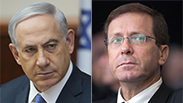 Zionist Union ahead in poll.
Photo: Alex Kolomoisky/AFP
A new poll commissioned by the Knesset television channel has found Zionist Union leading over Netanyahu's Likud by three seats.
Tuesday's Panel Politics poll, conducted a week ahead of the March 17 election, showed the center-left camp led by Isaac Herzog and Tzipi Livni earning 24 out of parliament's 120 seats. Likud trailed slightly with 21 projected seats.
The poll also had Yair Lapid's Yesh Atid as the third-largest party with 14 seats. The united Arab list would receive 13 seats, according to the poll.
Meanwhile, as in previous surveys, Naftali Bennett's Bayit Yehudi party polled at 12 seats. The poll also found a rise in support for the non-aligned centrist Kulanu party, polling at 9 seats. The party, headed by former Likud minister Moshe Kahlon, is running on a socio-economic platform, and is considered a swing vote in the election, as Kahlon could throw his support behind either the Likud or the Zionist Union.
The ultra-Orthodox Sephardic party Shas polled at 6. Both the left-wing Meretz party and Avigdor Lieberman's Yisrael Beytenu party stood at 5, followed by the Yahad (Together) party – a Shas offshoot led by former Shas leader Eli Yishai – which polled at 4, similar to previous polls.
Without a clear winner, Israel's largely ceremonial president may ask the two biggest parties to join forces after the vote.
The poll also found that 79 percent of Yesh Atid voters want their party to recommend Isaac Herzog for prime minister, while only 14 percent supported Netanyahu for the role. Forty seven percent of Kulanu voters also want their party to recommend Isaac Herzog for prime minister, while 33 percent preferred Netanyahu.
The poll surveyed more than 1,000 Israelis and had a margin of error of three percentage points.
Associated Press contributed to this report.