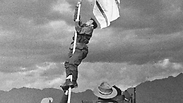 Raising of the Ink Flag
Photo: Micha Perry, IDF Archives Ministry of Defense
The defense ministry released Tuesday new photos from the IDF archives of the raising of the Ink Flag, a historic moment in which IDF soldiers raised a handmade Israeli flag painted with ink over the Umm Al-Rashrash police station in 1949 to mark the capture of Eilat. The photos were released on the occasion of the 66th anniversary of Operation Uvda, in which IDF troops conquered the southern Negev desert.

Operation Uvda was the last campaign conducted by the IDF during the War of Independence, and the now-famous moment of the raising of the flag is viewed as the peak of the operation. At the beginning of the operation, the Negev Brigade and Golani Brigade were dispatched towards Eilat. Five days later, Negev Brigade forces arrived at the abandoned police station at Umm Rashrash (where the city of Eilat was later built).

When Nahum Sarig, who was the commander of the Negev Brigade, noticed that the brigade did not have an Israeli flag on hand, he ordered his soldiers to makde a handmade one. The Brigade Secretary, Pua'ah Er'el, found a white bed sheet and drew the flag, using ink.

The famous photos show Israeli forces flying the flag over the police station at Umm Al-Rashrash. The flag was raised by Avraham Adan, company commander of the 8th Battalion of the Negev Brigade. Two hours later, Golani soldiers arrived at the area and replaced the ink flag with a standard flag.

The photo of the raising of the flag was taken by the soldier Micha Perry. The newly released photos show the process of the hanging of the flag by soldiers of the Negev Brigade.

Yohanan Elyashuv, who is today 84-years-old, was among those who participated in the raising of the flag. The moment in which the flag was raised is engraved in his memory. "I was 17 and a half, and I remember everything," he says. "I'm shown standing in one of the pictures in the middle, with a big coat."

Elyashuv recalls that famous day, 66 years ago: "We were in Be'er Sheva, and we went down to the south. There was an Egyptian police station there and a border control station. They were confused, and we gave them several cans of sardines. The Egyptian police officers said that if we cross through the side, we won't have to pay, and that's how we crossed into Eilat without a single gun shot fired."

Elyashuv also remembers that "they warned me of mines, but I wasn't afraid. I already stepped on a mine in the past. I ended up driving the car and there weren't any mines. There was also a competition between the two brigades regarding who would arrive first to hang the flag, and we arrived first. Some say the flag was drawn in Be'er Sheva, some say in Eilat. What's certain is that the path leading to that moment was interesting."