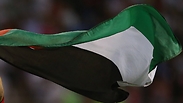 Palestinian flag waved at game
Photo: AFP
Barcelona authorities on Tuesday banned fans from waving Palestinian flags during a game between Maccabi Tel-Aviv and Regal FC Barcelona in the Euroleague on Thursday.
The move was decided upon after various incidents in which fans held up Palestinian flags during games, shouted offensive remarks against Jews and Israel, wore keffiyehs (the traditional Palestinian headscarves), and attempted to storm the court.
According to the Barcelona sports daily "Sport", Mossad agents will be positioned in the stands during the game and will stop any fan who will try to
raise a Palestinian flag or attempt any provocation against Israel. The fans will be prohibited from carrying signs in Arabic or any signs with pro-Palestinian messages.
Extreme anti-Israel organizations in Spain responded angrily to the move: "Macabbi's games are held in order to manufacture a good image for Israel and they give legitimacy to the occupation, colonialism and apartheid in Palestine. Israel is not the normal country it is trying to portray itself to be."