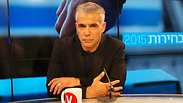 Yair Lapid at the Ynet studio
Photo: Avi Hay
"Benjamin Netanyahu will no longer be prime minister, it's over," former finance minister Yair Lapid (Yesh Atid) told Ynet on Wednesday.

"Netanyahu shouldn't be prime minister because he doesn't care," he said. "Look at the Israeli public - people want to elect leaders who care about their lives, their shopping cart at the supermarket, their cost of living, their housing. There's a wall of bullet-proof glass between him (Netanyahu) and reality."

Lapid said he was afraid the elections' results would lead to the formation of a unity government.

"I won't build coalitions now, but I'm concerned about a Likud-Labor-Haredim government because then Netanyahu will be prime minister and once again budgets will go to the wrong places," he said. "I'll fight against this, and this is why we need a big and strong Yesh Atid."

When asked whether he was be willing to sit in a government with Haredi parties, Lapid noted, "I said this quite a few times: We don't rule out anyone. But each government will have to fight corruption. At the end of the day, you need to form a government and work for the citizens."

A poll released Tuesday by the Knesset channel showed Lapid's Yesh Atid was set to keep its status as the third-largest party, with 14 seats projected, which is still a drop to the 19 the party had in the outgoing Knesset.

Meanwhile, the Zionist Union, led by Isaac Herzog and Tzipi Livni, lead the fray with 24 out of the Knesset's 120 seats. Netanyahu's ruling party the Likud was trailing slightly behind with 21 projected seats.