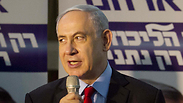 Likud leader Netanyahu
Photo: Ido Erez
A Likud convention featuring Prime Minister Benjamin Netanyahu was cancelled after organizers were concerned a dearth of supporters would appear as an embarrassment, according to Eyan Ben-Simchon on the local website Ashdod-net.

The site reported that the Likud could not recruit enough supporters to fill a wedding hall in the southern city, which was once a stronghold of the faction. Instead of the convention, Netanyahu will arrive Saturday evening at the home of the deputy mayor to try to sway local leaders to stump for him during the elections.

The convention, intended as a show of force for the right-wing faction, was also an attempt to send a message from Ashdod to the rest of the country and turn away from the negative electioneering.

Media outlets were invited and the campaign staffers were instructed to whip up support for the faction's final rally. Later, however, the Prime Minister's Office discovered the lack of backing in Ashdod and were forced to announce a cancellation of the event.