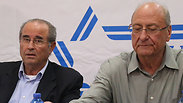 Retired generals accuse Netanyahu of jeopardizing Israel's security
Photo: Motti Kimchi
I have no problem with the statements and comments of the former Mossad, Shin Bet, Military Intelligence Directorate chief and other retired generals about Prime Minister Benjamin Netanyahu's alleged failures and strategic mistakes, although I don't agree with a single argument they have made, especially the ridiculous and outrageous declaration that some of his moves have jeopardized Israel's security and future.

Since we are living in an absolute democracy, each citizen is definitely entitled to voice his or her opinion, even if the reason for some of these apocalyptic prophets' wild attack on Netanyahu stems from a completely personal-political interest.

Under Attack

Op-ed: Anyone capable of comparing dock workers and Israel Broadcasting Authority employees to Hamas terrorists is also capable of turning a courageous former Mossad chief into an 'ungrateful leftist' and almost an enemy of Israel.

But I do have a very big problem (and I believe I'm not the only one with this problem, but many of the state's citizens too) with the timing of these attacks by professional security officials. In other words, I find it difficult to understand and to accept that all these "concerned" people who are now warning us served the state under Netanyahu-led governments for years.

If they understood at the time, as we can conclude from their remarks today, that the man is a danger to the state's existence, why didn't they say anything then? Perhaps their comments today are not so accurate.

As senior employees in the security institutions, they couldn't express their opinion in public. Therefore, they should have quit immediately and warned against a prime minister who is causing Israel so much damage. Strange, none of them did that.

I'm also refusing to "buy" the explanation that they remained in their positions in order to try to supervise "the boss" and do their best to prevent additional "dangers." Is it possible that this conduct and silence stem from their desire to complete their term and receive a pension and the very generous payments – to say the least – they were granted upon their retirement? Is it possible that their conscience had fallen victim to the desire to first of all secure their financial future?

That is indeed strange and hard to believe, but it's the only logical conclusion from their behavior. And that's a big problem. If they knew and kept quiet, this behavior is as dangerous as Netanyahu's alleged irresponsible actions.

I also understand that our security officials can't reveal the actual details in order to support their claims. That makes sense.

Nonetheless, I find it difficult to understand and accept the appearance and comments of six of them, former Shin Bet directors, in "The Gatekeepers," a film which causes heavy damage to the State of Israel. This film is being used repeatedly in many countries around the world as poisonous material against our country. How exactly do the heroes of this anti-Israel propaganda film explain and justify their appearance and comments?