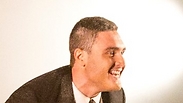 Nadav Guedg will represent Israel in the 2015 Eurovision
Photo: Rafi Daloya
The song that will be sung by the Israeli representative at the 2015 Eurovision Song Contest premiered on Thursday night. Israel selected its representative for the international music competition through a reality show entitled "HaKokhav Haba" ("Rising Star").

The winner, Nadav Guedj, will sing the song "Golden Boy" in Vienna, Austria in May and represent Israel at the famous competition viewed worldwide.

Watch the music video for Golden Boy here:

באדיבות קשת, טדי הפקות והערוץ הראשון

The song is entirely in English and was composed and written by Doron Medley, who has also worked with famous Israeli singers such as Eyal Golan and Omer Adam.

Viva la Diva

Sixteen years after winning Eurovision, Israeli diva invited to take part in special program in honor of European song contest's 60th anniversary.

"After I saw the music video and heard the song a couple of times, I am satisified," said Guedj to Ynet. "I understand the scale of the Eurovision but I am not getting stressed. I am proud to represent Israel," said Guedj.

When asked if he believed he could win, Guedj replied: "I will give 100 percent. I have three minuted and I will give my all but I am not coming with the approach of winning. I am going with the flow. I will give 100 percent for all of us."

Guedj has a long journey ahead, considering the fact that in recent years Israelis have not managed to break through at the international competition.

In 2014, at the competition held in Copenhagen, Denmark, Mai Feingold represented Israel with the song "Same Heart" and did not manage to reach the finals of the competition.

A year before, the winner of the reality show "Eyal Golan is calling you," Moran Mazor, represented Israel in Sweden and sang the song "Rak Bishvilo" (Only for him), but did not manage to pass the semi-finals. In 2012, Israel was represented by Izabo, a band, with the song "Time" – the group also did not manage to pass the semi-final.

In 2011, Dana International represented Israel at the competition for the second time after she won in 1998; however she was not as successful her second time around and failed to take home first place with her song "Ding Dong."

In fact, the last time Israel failed to reach the final stage of the competition was in 2010 when Harel Skaat represented Israel at the competition held in Oslo with the song "Words" but there was disappointment when the song only reached 14th place in the competition.