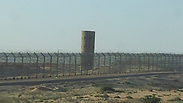 Israel-Egypt border fence
Photo: Yoav Zitun
Israeli security officials have recommended building a barrier along the border with Jordan – the Jewish state's only frontier that does not yet feature a fence.

"Security officials recommended the construction of a security barrier to protect the new airport which will be built at Timna" some 20 kilometres (12 miles) north of resort city Eilat, an army spokeswoman said, without elaborating.

Work has already begun on the new airport near Eilat, which lies across the Jordanian border from the port city of Aqaba.

It was unclear whether the government would approve construction of the fence.

Israel has a fence on its southern border with Egypt, also near Eilat, that was erected in 2013 to keep out illegal African immigrants.

The Jewish state also has a border fence with the Gaza Strip and barriers on the frontiers with Syria and Lebanon, both countries it is technically at war with.

The huge steel fence that runs along the Syrian frontier through the Golan Heights was built after the Syrian civil war broke out, for fear of a spillover of fighting and an influx of refugees.

Israel also has a vast separation barrier that runs through the West Bank, which it began building during the second Palestinian intifada, or uprising, which lasted from 2000-2005.