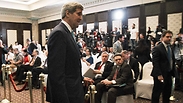 Kerry in Egypt says he hopes for return to peace talks after Israeli election.
Photo: Reuters
Secretary of State John Kerry said on Saturday while in Egypt that whatever the outcome in the Israeli election, the US hopes it will help push the peace process with the Palestinians forward.

The United States "remains hopeful that whatever the choice that the people of Israel make, that there will be an ability to be able to move forward on those efforts," Kerry said, referring to stalled peace talks with the Palestinians.

He declined to elaborate on prospects of resuming the talks, with an election just days away

Meanwhile, on the eve of fresh talks with Iran over its nuclear-power program, Kerry said that it was unclear whether an interim deal could be reached by the end of the month.

"I can't tell you whether or not we can get a deal," Kerry told a news conference in Egypt regarding negotiations with Iran.

Kerry added that he needs to speak with Iran's foreign minister to assess the effects of a letter from Republicans in the US Congress to Iran's leaders. Kerry says the letter undermined the Obama administration's diplomatic effort.

Kerry also repeated the administration's stand that it wants the right deal with Iran, not any deal.

He spoke Saturday in the Egyptian resort of Sharm el-Sheikh, where he attended an economic conference. Kerry will set out for Switzerland on Sunday for talks to be conducted with five other major powers ahead of a deadline at the end of March for a framework deal on Iran, with a final agreement in June.