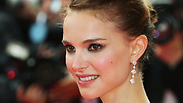 Natalie Portman. Won't be here for Election Day
Photo: Gettyimages
Hollywood actress Natalie Portman took some time during a short private visit to Israel to sign a petition seeking to end child poverty in the country.

The petition, which has been signed by more than 12,000 people so far, was initiated by a group of teenagers together with the HaNoar HaOved VeHaLomed ("working and studying youth") youth movement.

Activism

Academy Award winner stars voluntarily in new fundraising campaign for Jerusalem hospital she was born in 30 years ago.

The petition focuses on the situation of nearly one million poor children living in Israel. It will be submitted to the different party leaders ahead of the new government's establishment in a bid to turn it into a binding document of principles.

The main demand in the petition is to provide each poor child with three meals a day in school. Other demands include a complete cancellation of parents' payments to the educational system, allowing the children to borrow textbooks for free, and funding all medications and dental treatments for children up to the age of 19. The total cost of these demands is NIS 9 billion (about $2.25 billion).

Portman, who was born in Israel and lives in the United States, signed the petition in Hebrew on Thursday evening after arriving in the country for a few days. She headed back to the US on Saturday evening and will not be here to vote on Election Day.

"When I heard about the 'Million Kids' petition, I immediately realized that I should support this important initiative to end poverty among children," Portman said after signing the paper.

"The State of Israel is a leader in child poverty among Western countries. One in three children here is poor," says Hila Hoffman, a 12th grader from the Carmel Zevulun High School in Kiryat Tivon, one of the protest's leaders.

"We are demanding that the politicians end the poverty now. We are very close to the elections, and the public discourse has reached a very low level. It is dealing mainly with who will be here, not with what will be here. We are seeing empty slogans and campaigns, but they are not talking about the civilians and the public."

Want to sign the Million Kids petition too? Click here .