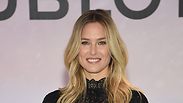 Refaeli chosen to judge Israel embassy in Washington's video contest
Photo: Getty Images
After US-Israel relations suffered a blow when Prime Minister Benjamin Netanyahu accepted a Republican invitation to address Congress without the knowledge of the White House, the Foreign Ministry and Israel's embassy in Washington have teamed up to mend ties with the US public, pulling out their secret weapon – Israeli super model Bar Refaeli.

The Foreign Ministry and the DC embassy launched a video contest which calls on US college students to send in creative videos showing their enthusiasm for Israel.

In order to boost participation, Refaeli was named the official judge, appearing in an ad with an exotic beach in the background that reads: "For years you judged Bar Refaeli – now it's her turn to judge you."

The winner of the contest will get a free trip to Israel and will meet with President Reuven Rivlin. The winner will not meet with Refaeli – but will have the bragging rights to say that Refaeli chose their video.

The top three video makers will win a trip to Washington DC where they will meet with Israel's ambassador to the US Ron Dermer and receive an invitation to Israel's Independence Day party in the US capital.

Along with Refaeli, Dermer will also serve as a judge along with Israeli musician Yoni Bloch and Israeli artist Yael Efrati.

The contest is open for American university and college students over the age of 18. Participants must send videos no longer than 90 seconds and must include a personal story, experience or song that shows why they love Israel. The videos can be shot using a video camera or even a mobile phone. The videos do not have to include images shot in Israel and participants who have never been to Israel are also encouraged to participate. The deadline to send in videos is March 27.

All the winning videos will be uploaded to Israel's official US Facebook page - Israel in the USA .