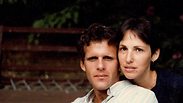 The hidden 'hippie' of Israeli politics
Sally Oren, wife of former Israeli ambassador to the US Michael Oren, now 4th on the Kulanu list, hung out with the likes of Jerry Garcia, Jim Morrison and Janice Joplin during the 60s' in San Francisco and even had two songs written about her by Jefferson Airplane.
Two years ago, the wife of former Israel ambassador to the US Michael Oren Sally Oren was coined by The Atlantic as the only woman in the world who can directly link between Prime Minister Benjamin Netanyahu and the Grateful Dead's Jerry Garcia. Now, Sally Oren is back in Israel and could become the wife of a minister, with her husband slated as number 4 on Kulanu's list.

With a life that now consists mainly of attending formal gatherings and political events, very few would guess that the wife of the Israeli diplomat-turned-politician used to be part of the revolutionary psychedelic music scene born in San Francisco in the late 60s'.

Whether it was throwing around a frisbee in Golden Gate Park with Jerry Garcia or attending house parties hosted by the Grateful Dead in the lower Haight – Sally Oren was there.

Very few Israeli politicians' wives can say that they hung around with the likes of Janice Joplin and Jim Morrison and to top it all off, the members of Jefferson Airplane were so mesmerized by Sally that they wrote not one, but two songs about her.

Oren – then Sally Edelstein – was the daughter of bohemian parents, her dad owned a clothing storing in San Francisco's Mission District, and became part of the San Francisco music scene thanks to close ties with the owner of The Fillmore – the city's legendary music hall.

While admitting to be shy and partly naïve to the scene around her, Sally made an impression on the people around her which culminated in Jefferson Airplane writing the song "Young Girl Sunday Blues" about her, featured in the bands third album. A second song written about her was never released.

"I had a crush on Marty Balin, the band's lead singer," Oren says in an interview with Ynet, slightly embarrassed. "I took a deep breath, approached him and started talking to him and he was really nice. I was 15. Later on, I slowly met the entire band.

"I was really young then so they were very careful with me. One day Marty came up to me and said, 'Sally, we wrote two songs about you.' I blushed. I sat in a corridor and he stood there and sang the songs to me," recalls Oren.

"Later on, I was at one of their concerts and someone from the band said on stage: 'Now we are singing a new song dedicated to Sally.' My sister stood next to me and started crying. She couldn't believe it. It wasn't the most amazing song (she jokes), but it's a song," says Oren.

When asked whose music she loved the most, Oren says that Jim Morrison was one of the best, although he had his ups and downs. "He wasn't consistent. Sometimes I saw him so drugged out that he fell off the stage or threw the microphone. Sometimes Janice (Joplin) would lose her voice completely, but she was a true performer."

Oren describes how the scene that began during the Summer of Love started to turn into a drugged out version of its origins. "We experienced these things on a day-to-day basis and we saw how people reacted to drugs. Everything was surrounded around drugs. The atmosphere began to turn dirty, there was heroin and speed and it became gross," says Oren.

Oren says she left the scene at the right time. "Two years into that period I left to travel through Europe and at the end of it, in 1970, I arrived for a visit in Israel. I left at the right time," says Oren.
40 years later
Fast forward 40 years and Oren is now the wife of an up-and-coming politician – her husband is 4th on Moshe Kahlon's Kulanu party's list which is predicted to receive at least 8 Knesset seats.

"The Kulanu headquarters is at our home so it's really lively and fun," says Oren. "I feel a part of it."

When asked if she would want to be the wife of a minister, Oren replies, "If Michael becomes a minister I will be happy for him. But it's not the same position as the wife of an ambassador, because there I was really involved in what he was doing."

Oren explains that being an ambassador's wife consists of a lot of gatherings and parties. "It's mainly dinners, parties and hosting. In the beginning, I was really scared of it all, but by our first Hanukkah Ben Affleck came over and it was really fun. Afterwards, all of the Israeli ministers came to our house and Israeli (celebrities) like David Broza, Noa Tishby and Rita. I fell in love with Rita. She is so warm and nice."

Oren says that many people were shocked that the couple decided to return to Israel after her husband served as ambassador, considering that both of them were born in America.

"People there could not believe we were returning to Israel. It's possible that we had an easier life there, but Israel is home. I feel like I grew up here and of course this is where I raised my kids. It wasn't even a question for me.

"But I am not saying that it isn't hard here. (In the US) we had a cook, a cleaner and a driver. The hardest thing is to not have a driver," Sally jokes.

Sally first visited Israel in 1970, as previously stated, but returned to the US after living in Kibbutz Ein Dor in northern Israel. In 1976, her parents made aliyah to Israel and she followed them to Israel five years later, after living in New York as a dancer.

Sally and Michael have been married for 33 years and have three children. Michael grew up in New Jersey and the two met in Jerusalem when Michael, who then worked at a radio station, walked into a store where Sally worked. The meet ended with Michael asking Sally out for dinner.

Living in Israel has not come without its hardships. Sally has felt first-hand the perils of the Arab-Israeli conflict – her sister Joanie was killed in a suicide bombing on a Jerusalem bus in 1995.

"It was near the Rene Cassin school," says Oren. "Joanie was in a nearby bus and when the terrorist blew up she was killed instantly." Joanie was 47 years-old at the time of her death and had been in Israel on sabbatical at the Hebrew University in Jerusalem.

Ever since returning from the states, the Oren's have lived in a modest rented apartment in north Tel Aviv, the sea visible from the window. "I would not live in Caesarea, for example," says Sally. "I like the city. In the meantime we don't have our own home but we want to stay in Tel Aviv. I like that it's close to the Yarkon River because Michael likes to row."

When asked if she would want to return to Jerusalem, Oren says that while she loves Jerusalem, it has become more Orthodox. "There were areas that closed down on Shabbat and it was uncomfortable. The atmosphere changed."

When asked if she was surprised by Michael's decision to join the political arena, Sally says that she knew that it was inevitable. "I always knew it was on the way, but nobody expected that it would come so quickly. We thought there would be another year to get organized and the elections came as a surprise. We debated, because it was close to our return from Washington, but in the end I said to Michael – 'I support you.' He likes challenges."