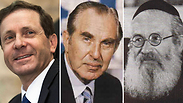 The Herzogs
Photo: AP, Wikipedia
The leadership dynasty of the family of Zionist Union chairman and prime ministerial candidate Isaac Herzog began with the appointment of his grandfather, Rabbi Yitzhak HaLevi Herzog, as the State of Israel's first Ashkenazi chief rabbi. His father, Chaim Herzog, rose to the rank of major general in the Israel Defense Forces and went on to serve as Israeli ambassador to the UN and then as Israel's sixth president.
Rabbi Dr. Yitzhak HaLevi Herzog – the first Ashkenazi chief rabbi of Israel
The grandfather, Rabbi Yitzhak Herzog, was born in Lomza, Poland, in 1886. At the age of 11, he moved with his parents to Britain, where his father, Joel, was appointed rabbi of Leeds. Ordained as a rabbi at 22, Herzog also studied at the Sorbonne in Paris and then the University of London, where he received his doctorate in literature. In addition to English and Hebrew, he was fluent in six other languages.

Herzog was appointed chief rabbi of Belfast at the age of 30, and went on to serve first as chief rabbi of Dublin and then chief rabbi of Ireland. Among other things, he managed to convince the Irish Parliament not to declare kosher slaughtering practices illegal in the Catholic state. After serving as chief rabbi of Ireland from 1922 to 1935, Herzog immigrated to Palestine to succeed Rabbi Abraham Isaac Kook as Ashkenazi chief rabbi upon his death.

In 1939, Herzog, known also as "the Zionist rabbi," headed a mass demonstration in Jerusalem against the White Paper.

During the Holocaust, Herzog embarked on a mission to save the Jews of Europe. To this end, he visited the United Kingdom and United States, and also persuaded the Soviet government to allow Jewish refugees from Lithuania and Poland to travel through Russia to the Far East and from there to Palestine. He also went on a secret mission to Turkey, but reports about his visit were leaked to the Turkey press and undermined his efforts to save Jews.

After World War II, Herzog traveled to Poland to try to convince Holocaust survivors to immigrate to Israel. During the same period, he also met with the Pope and a host of West European leaders as part of his efforts to save Jewish children and bring them back from their places of hiding throughout all of Europe, to their families or to Jewish orphanages. Many of these children had been hidden in Christian monasteries; and on the advice of the Pope, Herzog visited these locations throughout Europe. According to a modest estimate, Herzog's efforts saw no less than 12,000 children return to the Jewish fold.

Rabbi Herzog passed away in July 1959.
Chaim Herzog – state president and IDF major general
The father, Chaim Herzog, was born in Belfast, Ireland, and grew up in Dublin, where he studied at Wesley College. After immigrating with his family to Palestine in 1935, he continued his studies at the Hebron Yeshiva in Jerusalem. In 1936, he served in the Jewish paramilitary group, the Haganah. Two years later, he moved to England, where he went on to earn a degree in law at University College London.




In 1942, after completing his studies, and with World War II raging, Herzog enlisted in the British Army and served initially as a tank commander in the Armoured Division. He was commissioned into the Intelligence Corps in 1943 and fought in battles in France (also during the Normandy invasion), Belgium, the Netherlands and Germany. He also participated in the liberation of several Nazi concentration camps, including Bergen-Belsen.

Herzog returned to Israel in 1947 and again joined the Haganah. That same year, he married Aura Ambache. In light of his training and experience in the British Army, Herzog served in various positions in the Haganah's intelligence division and also as head of the Jewish Agency's security wing. After the establishment of the state, he enlisted in the Israel Defense Forces and served during the War of Independence as Brigade 7's chief operations and intelligence officer.

Herzog served from 1948 to 1950 as commander of the General Staff's Intelligence Department, and then, from 1950 to 1955, as head of Military Intelligence (MI), with the rank of major general. Thereafter, he served as military attaché in the United States, commander of the Jerusalem Brigade, and then head of the Southern Command. In 1959, he was again appointed head of Military Intelligence.

Herzog retired from the army in 1962 and went into business. He was also a co-founder of the Rafi party. During the Six-Day War, he served as a military analyst for the Voice of Israel radio station. His reports from the battlefield turned him into a well-known and popular figure among the Israeli public. After the war, he was named Israel's first military governor in the West Bank.

From 1975 to 1978, Herzog served as Israel's ambassador to the United Nations. During his tenure, the UN passed the resolution equating Zionism with racism (1975). In an act of defiance, Herzog stepped up to the podium and tore the resolution in half, declaring in his address to the General Assembly that "Hitler would have felt at home on a number of occasions during the past year, listening to the proceedings in this forum."

Following his service at the UN, Herzog returned to politics and was elected as a Labor Party MK in 1981. In May 1983, he was named Israel's sixth president, and went on to serve a second term from 1988 to 1993.

Herzog was the first Israeli president to conduct state visits to the United States and Germany. He passed away in April 1997.

 
Isaac Herzog – minister and prime ministerial candidate
Born in Tel Aviv in 1960, Isaac Herzog earned a law degree from Tel Aviv University before going on to study international relations and English literature at Cornell University and New York University. After returning to Israel at the end of 1978, he enlisted in the IDF and served as an officer in Military Intelligence's Unit 8200. Thereafter, he took up a position at the law firm founded by his father, Herzog, Fox & Ne'eman, and first delved into politics as a Labor activist.



Following Labor's victory in the 1999 election, Herzog served as cabinet secretary under then-prime minister Ehud Barak. He subsequently served as chairman of the Israel Anti-Drug Authority. In 2003, Herzog was elected to the 16th Knesset on the Labor ticket and served on various Knesset committees.

In January 2005, Labor joined the government of Ariel Sharon and Herzog was appointed housing minister. In November of that same year, Labor quit the government and Herzog's term in office came to an end. In May 2006, Labor signed a coalition agreement with Kadima. Under the agreement, Herzog was named tourism minister, but his term in office was again cut short after Yisrael Beiteinu joined the coalition too. In 2007, he was appointed instead to head the Social Affairs Ministry and the Diaspora Ministry. In March 2009, he was named social affairs minister in the government of Benjamin Netanyahu. He quit the government when Barak established the Atzmaut faction.

In November 2013, Herzog defeated Shelly Yachimovich in the Labor leadership primaries. Ahead of the election to the 20th Knesset, Labor joined with Tzipi Livni's Hatnua party and Herzog is the newly formed Zionist Union's candidate for prime minister.