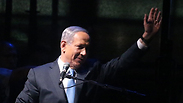 Likud leader Netanyahu
Photo: Motti Kimchi
Prime Minister Benjamin Netanyahu, in a final bid to shore up right-wing support ahead of a knife-edge vote on Tuesday, said he would not permit a Palestinian state to be created under his watch if he is re-elected.

Trailing his centre-left opponent Isaac Herzog in opinion polls, the three-term leader has sought to shift the focus away from socioeconomic issues and on to security challenges, saying he alone can defend Israel.

Having previously hinted that he would accept a Palestinian state, Netanyahu reversed course on Monday, citing risks that he linked to the regional spread of Islamist militancy. He said that if he is re-elected, the Palestinians would not get the independent state they seek in the West Bank, East Jerusalem and Gaza.

"Whoever moves to establish a Palestinian state or intends to withdraw from territory is simply yielding territory for radical Islamic terrorist attacks against Israel," he told the Israeli news site NRG.

Asked if that meant a state would not be established if he remained prime minister, he said: "Indeed."

On the final day of campaigning Monday, Netanyahu visited Har Homa, a Jewish development in east Jerusalem that is viewed as an illegal settlement by the Palestinians and the international community.

Netanyahu vowed to preserve Jerusalem's unity "in all its parts" and said he would "continue to build and fortify" the city to prevent any future division.

"Come home," he told disaffected Likud supporters. The choice is symbolic: the Likud led by me, that will continue to stand firmly for (Israel's) vital interests, compared with a left-wing government... ready to accept any dictate," he said.

Netanyahu promoted the establishment of Har Homa in 1997, in defiance of deep-seated international opposition, after he was first elected prime minister.

"I thought we had to protect the southern gateway to Jerusalem by building here," Netanyahu said, with a construction site behind the podium as his backdrop. "There was huge objection, because this neighbourhood is in a location which prevents the Palestinian (territorial) contiguity."

Despite the gap in polls, the numbers do not necessarily rule out Netanyahu's chances of forming the next government after Tuesday's election but have rattled the Likud, which began the campaign all but assured that it would stay in office.

In recent days it has been on a get-out-the-vote blitz with Netanyahu warning against the rise of a left-wing government in a series of interviews and before tens of thousands of hard-line supporters at a Tel Aviv rally organized by the right on Sunday evening.

"This is a fateful struggle, a close struggle. We must close this gap. We can close this gap," Netanyahu said to roaring applause at the rally.

Palestinian official Hanan Ashrawi said Netanyahu's comments were "dangerous" and could plunge the region into violence.

"This is the real Netanyahu," she said. "From the beginning, he was attempting to carry out a grand deception by pretending to be in favor of the two-state solution. But what he was actually doing on the ground is destroying the chances of peace."

Reuters and the Associated Press contributed to this report.