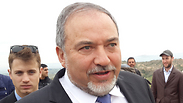 Avigdor Lieberman
Photo: Roee Idan
Yisrael Beytenu Chairman Avigdor Lieberman said Monday afternoon during a visit to Natif HaAsara near the Gaza Strip that "when I am defense minister, we will have the last campaign against Hamas."

The visit followed a Ynet report last week that Hamas has stepped up activity nearby.

Lieberman used the visit to criticize Prime Minsiter Benjamin Netanyahu's policy towards Hamas. "What we are seeing is that just a stone's throw away, Hamas people are not hiding – they're building fortifications and arming," he

said. "It shows that they apparently understood that we had a weak leadership that doesn't know how to be decisive, so they're allowing themselves to build fortifications and restore themselves."

"The elimination of Hamas is the primary mission of the Israeli government and as defense minister I will carry it out," said Lieberman. "We will not reach agreements and understandings with them. The only agreement that can eb reached with Hamas is when they are buried in the ground. Everyone knows what my opinion was in the government. I didn't hide it. Unfortunately, my opinion wasn't heeded. I was a minority in the cabinet. It's important that after elections we form a strong coalition and not a coalition of nerds – a coalition that will give an order to eliminate Hamas."

Videos on Ynet showed Hamas members on the Gaza side of the border fence building posts or training facilities as well as digging. Two masked armed individuals were seen helping another person descend – possibly into the ground.

This all occurred scores of meters away from the homes of Netiv HaAsara residents – where the settlements of Elei Sinai and Nisanit stood before being evicted during the disengagement from Gaza.

The residents of Netiv HaAsara are accustomed to seeing Hamas men setting up outposts and levees near the border fence, but in recent days the men working have been armed and masked, with Hamas flags flying visibly overhead.