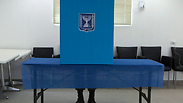 At 7 am on Tuesday, 5,883,365 eligible Israelis will turn up to 10,119 ballot boxes across the country to cast their vote and decide whether Prime Minister Benjamin Netanyahu continues to lead the Jewish State.
Israel has been preparing for its second national vote in as many years since December, when Netanyahu fired his senior coalition partners – Hatnua's Tzipi Livni and Yesh Atid's Yair Lapid.
A mere 12 hours before the election, Livni – now running with Labor's Isaac Herzog under the Zionist Union banner – announced that she would revoke her power-sharing agreement with the left-wing leader in order to help defeat Netanyahu at the ballot box.
Livni previously agreed with Herzog that she would replace him as prime minister after two years if the Zionist Union succeeds in forming a government. She said Monday that it was clear to her and Herzog that the rotation should not be an obstacle to removing Netanyahu from power.
The voting stations will be open until 10 pm in most towns, with smaller communities – those with less than 350 inhabitants – casting their ballots between 8 am and 8 pm, and Ynet's reporters will be filing live updates from across the nation.
Of the some 10,000 voting stations throughout the country, 2,500 have wheelchair access. Unlike in the US and Britain, Israelis serving a custodial sentence are allowed to vote, and 56 ballot boxes have been set up in 27 different prisons around the country. Another 255 ballot boxes have been set up in hospitals around Israel.
Of the party leaders, Lapid will be voting in Ramat Aviv, Netanyahu will cast his ballot in Jerusalem, and Herzog and Livni will turn out in northern Tel Aviv.

Again, unlike the US and UK, Israelis who do not live in Israel cannot cast a vote from abroad, and in recent days, many have flown into the country in order to exercise their electoral privilege.
Voting has actually started already, with serving IDF soldiers and members of the diplomatic corps casting their ballots as early as March 4. (Diplomats based abroad are the only Israelis allowed to vote outside the country.)
Voters are asked to choose one from the 25 parties competing for seats in parliament. The number of votes given to each party – provided it passes the 3.25% of the total vote needed to secure at least one spot in the Knesset – determines how many seats it gets in total.
The polls close by 10 pm, at which time the three main television channels will publish their exit polls. The final results begin to trickle in on Wednesday morning while a count of 99 percent of the votes is not tallied until Thursday. The final, full count will be presented to President Rivlin on Thursday, March 25.