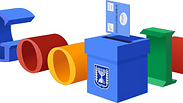 Israel's king of remix Noy Aloooshe released a new video on Tuesday to celebrate Israel's Election Day with clips from campaign ads by the different parties.

Election Day Remix (Hebrew) (עריכה: נוי אלוש)

Google, meanwhile, caught the election spirit on Tuesday, with a special doodle to mark Israel's Election Day. The doodle, which appears only to those who visit google.co.il, shows the second letter "g" replaced by an Israeli ballot box.

This is not the first time that Google has changed its famous logo to mark an event in Israel.

On Independence Day last year, the doodle showed children carrying Israeli flags and a banner reading "66", the year since Israel's creation.

Facebook also appeared to have caught election fever, with Israeli users of the social network receiving a message on their news feed encouraging them to inform their friends that they had cast a ballot.

"Elections 2015 - today we vote," reads the notice. "Share that you voted."

As Election Day is a national holiday in Israel, schools, public institutions and many businesses are closed, and parents could find themselves looking for ways to keep their offspring entertained.

In honor of the day, therefore, the Jerusalem Biblical Zoo deided to hold special elections to determine the best animal. The frontrunners were listed as the lion, elephant and even the giant tortoise.

Visitors - young and old - were invited to vote before the zoo polls close at 4pm. The winner was to be declared at 5pm, hours before the real polls close.