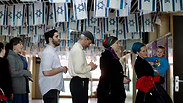 Israeli vote during 2015 elections.
Photo: EPA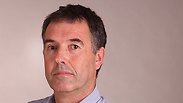 Prof. Yossi Shain
Photo: Amit Magal
Israel's new government will have to shape its foreign policy in keeping with the dramatic geopolitical changes in motion around the world. These changes pose new challenges and offer excellent opportunities for Israel.
1. Israel is no longer in isolation in the "new" Middle East. It shares interests with Egypt, Jordan, Saudi Arabia and a number of the Gulf States. The struggle these countries are waging against Islamic State and other Jihadist groups, along with their concerns regarding the Iranian threat, has reduced Arab hostility towards us. This affords us the chance to push for a broad regional settlement aimed at making peace between Israel and the Arabs.
The framework of such a settlement would also include the outlines for a resolution of the Palestinian issue. Israel must enlist the Europeans, who are becoming more and more concerned about the rise of radical Islam in their midst, in the regional peace project.
The Europeans understand today that the Jihadists don't stop only at anti-Semitism and hatred of Israel and that the so-called "European problem" is not the Palestinian issue. We need to show them that we are willing to move forward on this issue in a significant way.
2. Egypt's designation of Hamas as a terrorist organization offers us a rare opportunity to present our position to the world. We need to join forces with the moderate Arab world, which seeks secure borders and internal quiet. We have to be part of a global political and security initiative to eradicate terror and promote political stability.
We and the countries of Europe, the United States and Canada, and the leading Asian nations – India, China, South Korea and Japan – see eye to eye when it comes to the global threats. We need to enlist them in a broad Middle East initiative that includes the demarcation of Israel's permanent borders. Don't forget, Turkish President Recep Tayyip Erdoğan is not only an enemy of Israel, but of Egyptian President Abdel Fattah el-Sisi and Saudi King Salman too.
3. The wave of "democratic change" that characterized the 1980s and 1990s has come to an end. The old-school ideology of George W. Bush and Benjamin Netanyahu that "peace can only exist among democracies" is no longer relevant, including in our region. According to political sociologist Larry Diamond, the world has slipped into a "democratic recession."
Numerous democratic regimes have collapsed and weakened, and the spirit of democracy as the basis for governmental legitimacy has been lost. In addition, the United States as a superpower that nurtures democratization and human rights has grown weaker, while China as a prosperous authoritarian superpower has strengthened.
China's rise puts paid to the thesis that a "market economy" leads to a free society. We must continue therefore to nurture our flourishing economic ties with the East, and to translate our strength in terms of entrepreneurship and innovation to forge new strategic alliances.
4. In a world in which political and territorial stability, and not democratization, has become a leading issue in the international arena, and struggles against Jihadists and pirates provide a seal of approval to centralized regimes, we face the danger of the emergence of dictatorial and nationalist elements that could undermine our liberal democracy.
This is particularly evident in the Russian arena and Central Asia. With this reality in mind, we must remember that we will always be judged based on our democratic behavior. We have to make sure that we don't appear too eager and lacking in values when shaping our relations with authoritarian regimes.
In our relations with Vladimir Putin, for example, we need to stress Russia and Israel's shared interest with respect to eradicating Islamic terror and combatting destabilizing forces. And while we need to further boost tourism from Russia, we must not turn a blind eye to the oppression of opposition forces, such as the shocking murder of Boris Nemtsov.
The current geopolitical trends demand that Israel's new government functions in the regional and international arenas with a sophisticated combination of its economic, military and moral fortitude.
We need to promote a new political initiative in the Middle East, to preserve our traditional strategic alliances with the United States and Europe, to foster security and economic cooperation in Asia and elsewhere, and to stress our domestic and international commitment to democracy and human rights.