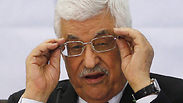 Mahmoud Abbas
Photo: Reuters
Palestinian Authority President Mahmoud Abbas on Thursday criticized Prime Minister Benjamin Netanyahu's declaration that no Palestinian state would be formed under his leadership.

"If these things are true, it means that the Israeli government has no serious intentions to reach a peace agreement that will create two states based on the 1967 borders," he said. "We therefore will not retreat from our position to apply international law, and so it is our right to go anywhere in the world to realize our rights according to international law."

Saeb Erekat, chief Palestinian negotiator in peace talks with Israel that collapsed in April, said in a statement Wednesday that Netanyahu's electoral win this week showed "the success of a campaign based on settlements, racism, apartheid and the denial of the fundamental rights of the Palestinian people".

Netanyahu declared on Monday, one day before the election, that he would not permit a Palestinian state to be created under his watch if reelected. Having previously hinted that he would accept a Palestinian state, Netanyahu reversed course on Monday, citing risks that he linked to the regional spread of Islamist militancy.

"Whoever moves to establish a Palestinian state or intends to withdraw from territory is simply yielding territory for radical Islamic terrorist attacks against Israel," he told the Israeli news site NRG.

The Politico news site reported on Thursday that the Obama administration is reconsidering the United States' role as Israel's international diplomatic protector following Netanyahu's statement, which stands in direct contradiction with White House policy on the peace process.

Moran Azulay and Reuters contributed to this report.