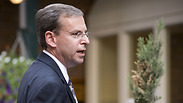 J-Street director Jeremy Ben-Ami says he welcomes possible shift in US policy towards Israel.
Photo: Jay Premack
J Street director Jeremy Ben-Ami addressed the pro-peace, pro-Israel Jewish lobby Saturday evening as part of their annual conference, and praised the US' reluctance to accept Prime Minister Benjamin Netanyahu's attempt to backtrack from a pre-election rejection of the two-state solution.

The conference, held in Washington DC, came as Netanyahu tried to work to backtrack from comments made during the election. US President Barack Obama said the US no longer believed Netanyahu was committed to peace.

"We are very glad to hear that the Obama administration is reconsidering its approach to the Israeli-Palestinian conflict," Ben-Ami said Saturday night.

In an interview given Saturday to the Huffington Post, Obama said the US was considering its next steps, reportedly possibly ending the US' automatic support for Israel in the UN, especially in the Security Council where Palestinians are pushing for a resolution to force Israel to end its control over the West Bank.

Ben-Ami expressed support for such a move, saying the US should outline "the parameters for a reasonable resolution of the conflict grounded in two states for two people" he said.

Regarding the UN, Ben-Ami said the US should "do more than block one-sided actions targeting Israel, which we believe it should. It's time to support a Security Council resolution proactively laying down a marker for both sides as to how their conflict needs to end."

The election results seems to sideline the conference's original issue – the Green Line – but Ben-Ami attempted to give voice to a growing frustration among US Jewry, saying "How can the American Jewish community hope to promote a two-state solution if we don't distinguish between the state of Israel within the Green Line and the land occupied in 1967?"

A day before elections, Netanyahu told the NRG news site that "Whoever moves to establish a Palestinian state or intends to withdraw from territory is simply yielding territory for radical Islamic terrorist attacks against Israel."

Asked if that meant a state would not be established if he remained prime minister, he said: "Indeed."

But the day after the elections, after his party secured 30 seats in the 20th Knesset, Netanyahu was quick to backtrack on his statement, telling NBC that he did want a "sustainable, peaceful two-state solution" but that the current situation does not allow for that to happen.

Netanyahu also warned on Election Day that Arab voters were going to the polls "in droves," a statement which also drew anger from local politicians as well as the US President.

Ben-Ami slammed the comment, saying "It's anger and it's pain we feel at having watched the prime minister of Israel use fear-mongering and scare tactics tinged with racism to claw his way to 23 percent," Ben-Ami said

He expressed anger but little suprise at " what so many long knew."

"In order to save his political life (Netanyahu expressed) complete opposition to Palestinian statehood and then tried to shamelessly and cynically try to walk it back.

"I am still furious at the damage that has been done to the US-Israel relationship by the partisan gamesmanship of the prime minister, his ambassador and Speaker (of the House John) Boehner around his address to a joint session of Congress," Ben-Ami added in reference to the controversial speech given by Netanyahu ahead of the election.

"We say to Prime Minister Netanyahu – who claims to speak for all the Jews of the world – no, Mr. Prime Minister, you do not speak for us," Ben-Ami said, adding "We do not agree with you. We do not agree with the course you are charting for Israel, and we will oppose what you stand for when we feel it is not in the best interests of the United States, of world Jewry or of the state of Israel."

Ben-Ami's comments opened the lobby's annual conference that will continue through Tuesday. The White House sent White House Chief of Staff Denis McDonough to the event, and other speakers include top Palestinian peace negotiator Saeb Erekat, US Special Envoy Martin Indyk and James Baker.

Obama said Friday he has taken Netanyahu for his word when he said he didn't support a two-state solution, despite Netanyahu backtracking on his statement that a Palestinian state will not be formed under his watch.

"That is why we've got to evaluate what other options are available to make sure that we don't see a chaotic situation in the region," the president told the Huffington Post in his first public comments about Netanyahu's win since the elections.

Netanyahu said on Monday, a day before the elections, that he would not permit a Palestinian state to be created under his watch if he were to be re-elected.