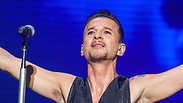 Dave Gahan in 2013 Tel Aviv concert
Photo: Avishag Shaar-Yashuv
Dave Gahan, the lead singer of British electronic band Depeche Mode, landed in Israel on Friday morning for a very special occasion: His 27-year-old son, Jack, married a local girl, Sigal Memis.

The wedding, which took place Sunday at a banquet hall in Caesarea the presence of 200 guests and scores of security guards, began with the couple standing under the chuppah (wedding canopy) during the sunset.

The romantic relationship between Memis (originally Memistevlov) and Gahan Jr. began more than six years ago when Jack decided to join his father's concert tour in Israel in 2009. He met Sigal, who comes from the northern city of Nahariya, while hanging out with the band members at a Tel Aviv nightclub. Since then, Sigal has moved to London and the couple has been keeping its relationship away from the spotlight.

Dave Gahan and his son spent the weekend with Sigal's family in Nahariya. On Saturday evening he returned to the luxury Herzliya hotel he is staying in. Jack's mother also arrived in Israel for the happy occasion and even found the time to tour Jerusalem.

If Gahan was planning to keep his visit a secret, he definitely failed. His fans received information about his arrival and were waiting for him in Nahariya. "We waited at the Nahariya Junction and chased his car," says Nurit Poran, a Depeche Mode fan. "We lost it at some stage, but we continued looking until we found the car outside Sigal's parents' house."

The distinguished guest went into the home of the bride's parents for a Friday night dinner and spent four hours there. The whole time, the fans waited outside in the cold. Gahan eventually emerged from the house with a "doggy bag" – Caucasian food wrapped in tinfoil.

"He was very nice, said hello and even agreed to post for a picture with us," says Poran. "Although we were very excited, we kept quiet.

We didn't want everyone to find out he was there. It's unbelievable that Depeche Mode's lead singer is right here in Nahariya."

If you're hoping to take a selfie with Gahan too, you will likely not find him in the usual tourist sites as this is his third visit to Israel. In 2009, the 52-year-old singer performed with Depeche Mode at the Ramat Gan Stadium in front of 50,000 people. Four years later, the band returned for a concert at Tel Aviv's Yarkon Park.

Tzachi Koma, Eden Mozes and Rotem Elizera contributed to this report.