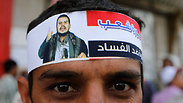 Houthis rebel supporter in Yemen.
Photo: Reuters
Shiite rebels backed by supporters of former President Ali Abdullah Saleh seized Yemen's third largest city of Taiz and its airport on Sunday, security and military officials said, as thousands took to the streets in protest.

The seizure comes a day after the rebels called for a general mobilization against forces loyal to Hadi, who had just given a defiant speech challenging the Houthis in his first public address since leaving Sanaa.

In his first speech since fleeing to Aden, President Hadi called on the UN Security Council to intervene in his country and stop in "every way possible" the rebels, known as Houthis, who he said were supported by Iran.

President Hadi said that the rebels were attempting to undermine the government's authority and the stability of Yemen and were "trying to stage a coup" against him.

The president's words were heard at the UN in New York, and the Security Council is set to convine on Sunday to discuss the dire situation in the country.

If the rebels hold onto the city, the capital of Yemen's most populous province, it would be a major blow to embattled current President Abed Rabbo Mansour Hadi, who established a base in the southern city of Aden just 140 kilometers (85 miles) away after fleeing the rebel-held capital last month.

Brig. Gen. Hamoud al-Harathi, the commander of special forces units based in Taiz, rejected Hadi's legitimacy as president. Meanwhile, thousands demonstrated in the city against both the Houthis and Saleh, prompting the rebels to disperse them by firing into the air and beating them back with batons.

The security officials spoke on condition of anonymity because they were not authorized to brief the press.

The Shiite rebels swept into Sanaa in September and now control it and nine of the country's 21 provinces.

The turmoil has undermined Yemen's ability to combat al-Qaida in the Arabian Peninsula, the target of a US drone program, and the country now also faces a purported affiliate of the extremist Islamic State group, which claimed responsibility for a series of suicide bombings killing at least 137 people Friday.

A day earlier, US troops evacuated a southern air base crucial to the drone program after al-Qaida militants seized a nearby city.

All these factors could push the Arab world's most impoverished country, united only in the 1990s, back toward civil war.