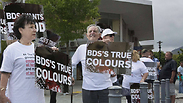 Protest in Cape Town
Photo: AFP
Dozens of anti-Israel activists raided a South African store which sells products made in the Jewish State, massively damaging the premises. At the end of the riot, Pretoria police arrested 21 teens between the ages of 16 and 18.

The mob first protested outside the store in a demonstration organized by local groups seeking a boycott of Israel. Protesters carried signs saying "Israel is the devil" before some of them raided the store, throwing rocks, breaking equipment, and looting food products.

The rioters also attacked several of the employees. The total damage to the store, at riot's end, was in the tens of thousands of shekels.

The store targeted in the latest boycott effort was in an industrial park named after Sammy Marks, a famous South African Jewish financier. The chain of stores has long been a target for boycott advocates, who in the past placed a decapitated pig's head at the entrance to a branch which sells kosher meat.

Pretoria police confirmed that all the teens involved in the riot belonged to an anti-Israel group. It added that they would be brought before a judge and then released to their homes under strict limitations.