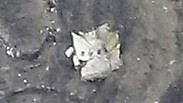 Debris from Germanwings flight
Eyal Baum, 39, has been named as the Israeli citizen who was among 150 people killed when a Germanwings passenger jet crashed in the French Alps on Tuesday.

Israel's Foreign Ministry had earlier received a call from Baum's family, who said he was scheduled to board the flight from Barcelona, where he lived, to Dusseldorf in Germany, where he had business. The Foreign Ministry then contacted German officials. Baum is originally from the Sharon region. His family has been informed of his death.

Footage of crash site

Meanwhile, French Interior Minister Bernard Cazeneuve said a black box has been located at the site in the French Alps where the plane crashed.

Cazeneuve, speaking from the Alps region, said the black box had been located and would ultimately help in the investigation into the cause of the crash Tuesday. It wasn't immediately clear if the box had been recovered. Officials believe all 150 people onboard the plane were likely killed when it crashed.


A spokesman for the French Civil Aviation authority says the plane that crashed in the French Alps with 150 people on board never sent out a distress signal.

Eric Heraud said the plane lost radio contact at 10:30 am Tuesday, but "never declared a distress alert itself." He said it was the combination of loss of radio contract with control and the plane's descent which prompted the control service to declare a distress.




Heraud said six investigators from the Bureau of Accident Investigations, or BEA, were en route from Paris and would be at the crash site by evening. One investigator from the region was already present, he said.

The crash left officials and families across Europe in shock. Sobbing, grieving relatives at both airports were led away by airport workers and crisis counselors.

"We still don't know much beyond the bare information on the flight, and there should be no speculation on the cause of the crash," German Chancellor Angela Merkel told reporters in Berlin. "All that will be investigated thoroughly."


In Washington, the White House said American officials were in contact with their French, Spanish and German counterparts.

"There is no indication of a nexus to terrorism at this time," said U.S. National Security Council spokeswoman Bernadette Meehan.

Photos of crash site from the La Provence newspaper showed scattered black flecks across a mountain and several larger airplane body sections with windows, five in one chunk and four in another. France's prime minister said a helicopter crew that landed briefly in the area saw no signs of life.

"Everything is pulverized. The largest pieces of debris is the size of a small car. No one can access the site from the ground," Gilbert Sauvan, lawmaker and president of the general council, Alpes-de-Haute-Provence, told The Associated Press.




Germanwings said Flight 9525 carried 144 passengers, including two babies, and six crew members. Officials believe 67 German nationals were on board, including 16 high school students on an exchange program from the German town of Haltern. Dutch officials said one Dutch citizen was killed.

The plane left Barcelona Airport at 10:01 a.m., then began descending again shortly after it reached its cruising height of 38,000 feet, Germanwings CEO Thomas Winkelmann said. The descent lasted eight minutes, he told reporters in Cologne.

Germanwings Flight 9525 from Barcelona, Spain, to Duesseldorf, Germany, was flown on an Airbus A320, a workhorse of modern aviation, similar to the Boeing 737. There are over 3,600 of them in operation worldwide, according to Airbus, which also makes nearly identical versions of the plane: The smaller A318 and A319 and the stretched A321. An additional 2,500 of those jets are flying.

The A320 family has a good safety record, with just 0.14 fatal accidents per million takeoffs, according to a Boeing safety analysis. This particular jet was delivered to Lufthansa - the parent company of Germanwings - in 1991 and had about 58,300 flight hours over 46,700 flights.

Germanwings, a low-cost unit of Lufthansa, had recorded no accidents involving passenger deaths until now.

Aviation accident databases such as aviation-safety.net showed no fatalities since the carrier was founded in 2002. Airline representatives did not immediately answer questions about the safety record.

Germany's Spiegel magazine has reported an incident from 2010, when two pilots nearly passed out as they landed in Cologne. The magazine said contaminated cabin air was suspected.

Germanwings' parent company, Lufthansa, has not recorded a passenger fatality since 1993, when another Airbus A320 overshot a runway in Warsaw, Poland, killing one crew and one of 64 passengers.