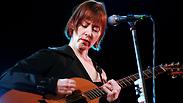 Suzanne Vega
Photo: Gettyimages
American singer and songwriter Suzanne Vega will arrive in Israel this summer for the fifth time to perform with the Israel Philharmonic Orchestra.

Vega will perform her greatest hits with symphonic adaptations, along with 70 of the Israeli orchestra's musicians, as part of concerts conducted by Ilan Mochiach, which will take place at the Charles Bronfman Auditorium in Tel Aviv on June 9-10.

Concert Time

Legendary American singer is expected to perform her greatest hits, including 'Walk On By' and 'Heartbreaker,' during Tel Aviv show.

"The Philharmonic Orchestra is proud to host Suzanne Vega, one of the most talented singers and songwriters of our time," said Israel Philharmonic Orchestra Secretary-General Avi Shoshani. "The orchestra is proud to offer its audience an international musical experience. We and the Israeli audience are in for a special and exciting experience."

Vega first performed in Israel at the Caesarea Amphitheater in 1989. A decade later, she returned to the Holy Land for two concerts at Tel Aviv's Cinerama Club. In 2009, she gave two performances on the same day at the Heichal Hatarbut concert hall in Tel Aviv. During her fourth visit in 2010, she performed at the Caesarea Amphitheater and the next day at Havat Ronit in Kibbutz Ga'ash.

After her upcoming concerts in Israel, Vega will fly to the Isle of Wight Festival, where she will perform alongside The Black Keys, Fleetwood Mac, The Prodigy, Pharrell Williams and others.

Vega, 55, made her musical breakthrough in 1985 with her self-titled debut album, which reached platinum status in the United Kingdom. Her next album, "Solitude Standing," which was released two years later, included her two most memorable hits, "Luka" and "Tom's Diner."

Her eighth and latest studio album, "Tales from the Realm of the Queen of Pentacles," was released in 2014.