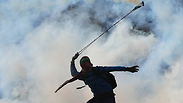 Palestinian rioters throwing stones at Israeli troops near Ramallah
Photo: AFP
The long-running conflict with Israel claimed the lives of more Palestinian civilians in 2014 than any year since 1967, the United Nations said Thursday, in a damning report on the humanitarian situation.

Meanwhile, rights group Amnesty International criticized the "flagrant disregard" by Palestinian armed groups for the lives of Israeli civilians, fingering the Hamas rulers of the Gaza Strip as a culprit.

In 2014, Israel and Hamas fought a devastating war in Gaza that killed nearly 2,200 people, while intense violence in East Jerusalem and the West Bank killed dozens of Palestinians and several Israelis.


A report by the UN Office for the Coordination of Humanitarian Affairs (OCHA) entitled "Fragmented Lives" called for more restraint on both sides.

"All parties to the conflict... must fulfil their legal obligations to conduct hostilities in accordance with international law to ensure the protection of all civilians and to ensure accountability for acts committed," it said.

"Palestinian civilians continue to be subject to threats to their life, physical safety and liberty," with 2014 witnessing the "highest civilian death toll since 1967," OCHA said.

"In the Gaza Strip, 1.8 million Palestinians endured the worst escalation of hostilities since 1967: over 1,500 Palestinian civilians were killed, more than 11,000 injured and some 100,000 remain displaced."

More than 550 children were among the dead, it added.

"On the Israeli side, five civilians, including a child, as well as a security guard were killed," it added, expressing "serious concerns... over the conduct of hostilities of both Israeli forces and Palestinian actors."

In addition to the casualties among Palestinians, 73 died on the Israeli side, mostly soldiers.

The Palestinians are to sue Israel next month in the International Criminal Court for alleged war crimes as early as next month.

That could open up Hamas to criminal investigation as well.

In the West Bank and Jerusalem, 58 Palestinians were killed, mostly in clashes with Israeli forces, and more than 6,000 wounded.

Palestinian attacks on Israelis, including incidents in which cars ran into pedestrians in Jerusalem, killed 12 people.

Meanwhile, OCHA said "a record number of 1,215 Palestinians were displaced due to home demolitions," adding that "settlement and settler activity continued, in contravention of international law, and contributed to humanitarian vulnerability of affected Palestinian communities."

The international community urges Israel to halt Jewish settlement building on disputed territory, seeing it as an obstacle to peace.

Israel captured the West Bank, the Gaza Strip and East Jerusalem in the 1967 Six-Day War and unilaterally annexed East Jerusalem shortly after.