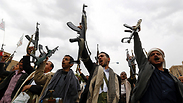 SANAA -- A Saudi-led airstrike campaign targeting Shiite rebels who control much of Yemen has pushed them out of contested air bases and destroyed any jet fighter remaining in the Arab world's poorest country, the kingdom has said.

Saudi Brig. Gen. Ahmed bin Hasan Asiri said the airstrike campaign, now entering its fourth day Sunday, continued to target Scud missiles in Yemen, leaving most of their launching pads "devastated," according to remarks carried by the state-run Saudi Press Agency.

Related articles:

However, he warned Saturday that the Shiite rebels, known as Houthis, could control more of the missiles. His account could not be immediately corroborated.

The Saudi navy evacuated dozens of diplomats from Yemen on Saturday and the United Nations pulled out international staff after a third night of Saudi-led air strikes trying to stem advances by the Iranian-allied Houthis.

The Houthis began their offensive in September, seizing the capital, Sanaa, and later holding embattled President Abed Rabbo Mansour Hadi under house arrest. The rebels later took over government in Yemen and ultimately forced Hadi to flee the country in recent days.

A Saudi-led coalition of some 10 countries began bombing Yemen on Thursday, saying it was targeting the Houthis and their allies, which include forces loyal to Yemen's former leader, Ali Abdullah Saleh.

On Saturday, Hadi directly accused Iran of being behind the Houthi offensive as leaders at an Arab summit considered creating a military reaction force in the Middle East, raising the specter of a regional conflict pitting Sunni Arab nations against Shiite power Iran. Iran and the Houthis deny that Tehran arms the rebel movement, though the Islamic Republic has provided humanitarian and other aid.

Residents reported heavy clashes between the Houthis and mainly Sunni tribal fighters in the south of the country Saturday, while the air campaign sought to stall a fresh offensive by the Shi'ite Muslim group on Aden from the east.

Riyadh's intervention, a surprise move from a conservative monarchy better known for flexing its muscle in oil markets than through military might, is planned to last a month but could extend for five or six, a Gulf diplomatic source said.

Eighty-six foreign diplomats and Saudi nationals were shipped out of Aden to the Red Sea port of Jeddah, a Saudi military officer said, escaping the city where President Abd-Rabbu Mansour Hadi had taken refuge until Thursday, when he left for Egypt to shore up Arab support for his crumbling authority.

The director general of Yemen's Health Ministry, al-Khadher Laswar, said more than 68 people had been killed and 452 wounded in the city since Wednesday. Explosions at Aden's largest ammunition depot on Saturday killed at least 15 people and wounded dozens, he said.

In the capital Sanaa, which has been under Houthi control since September, the United Nations said most of its 100 international staff were evacuated. Airport officials said up to 250 other foreigners working for international oil companies and NGOs also flew out to Ethiopia and Djibouti.

Pakistan planned to dispatch a plane to the Yemeni city of Hodeida on Sunday, hoping to evacuate some 500 citizens gathered there, said Shujaat Azim, an adviser to Pakistan's prime minister. Azim told state-run Pakistan Television more flights would follow as those controlling Yemen's airports allowed them.

Pakistan says some 3,000 of its citizens live in Yemen.

Ali Hassan, a Pakistani in Hodeida, told Pakistan's private GEO satellite news channel that hundreds there anxiously waited for a way home.

"We had sleepless nights due to the bombardment in Sanaa," Hassan said.