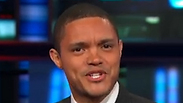 Only a day after being announced as the replacement for Jon Stewart on the Daily Show, comedian Trevor Noah has drawn fire for a number of tweets that many found anti-Semitic and sexist.
Critics pointed to posts on to the comic's Twitter account, which has more than 2 million followers, before he was appointed Stewart's successor. Many dated from 2011 and 2012. Some were more recent.
A tweet from May of last year read: "Behind every successful Rap Billionaire is a double as rich Jewish man. #BeatsByDreidel". He hit back at users who accused him of reinforcing stereotypes. "There's only one rap billionaire," he wrote. "How is this stereotyping? Are you being serious right now?"
Another tweet alluded to Nazi Germany:
Almost bumped a Jewish kid crossing the road. He didn't look b4 crossing but I still would hav felt so bad in my german car!

— Trevor Noah (@Trevornoah) September 18, 2009
Yet another said, "Note to self - Langostines are not Jewish prawns".
And a tweet from 2012 evoked stereotypes about Jewish women:
Messi gets the ball and the real players try foul him, but Messi doesn't go down easy, just like jewish chicks. #ElClasico

— Trevor Noah (@Trevornoah) January 25, 2012
In a statement, Comedy Central defended Noah as a "provocative" comedian who "spares no one, himself included."
"To judge him or his comedy based on a handful of jokes is unfair," said the network, adding that he has "a bright future at Comedy Central."
Noah also poked fun at his countrymen and Israel.
"South Africans know how to recycle like Israel knows how to be peaceful," he joked on Twitter.
Noah, 31, is from South Africa. His mother is a half-Jewish black South African, and his father is a white European. He has an international presence, and hosted a late-night talk show in South Africa, "Tonight with Trevor Noah."
In South Africa, the announcement on Monday that he Noah would take over from Stewart made breaking news on a national television news station. On social media, Noah's name became a trending topic within minutes, with some Twitter users saying he not only represented South Africa, but the African continent.
Associated Press and Reuters contributed to this report.