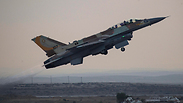 F-16 fighter jet
Photo: EPA
President Barack Obama on Tuesday released military aid to Egypt that was suspended after the 2013 overthrow of the government, in an effort to boost Cairo's ability to combat the extremist threat in the region.

The White House said Obama notified Egyptian President Abdel-Fattah el-Sissi in a phone call Tuesday that the US would be sending 12 F-16 fighter jets, 20 missiles and up to 125 tank kits, while continuing to request $1.3 billion in military assistance for Egypt. The White House said that would make Egypt the second-largest recipient of US foreign military financing worldwide.

The funds were suspended 21 months ago when el-Sissi, then military chief, overthrew Egypt's first democratically elected leader, Islamist President Mohammed Morsi. But Washington could not provide almost half of the annual aid package – along with assistance held up from previous years – until it certified advances by el-Sissi's government on democracy, human rights and rule of law or issued a declaration that such aid is in the interests of U.S. national security.

The US has been providing hundreds of millions in counterterrorism assistance to its ally, which didn't stall as a result of the government overthrow. Egypt has been arguing it needs the money to face growing threats from extremists creeping over the border from lawless Libya or operating in the Sinai Peninsula, and the U.S. sees the funds as critical for stability in the volatile Middle East.

The aid comes as Egypt is trying to play a leading role in forming an Arab military alliance that can fight terrorism in the region.

The White House said it is not issuing a certification that Egypt has made progress toward democracy. Instead, the US said it is maintaining that the aid is in the interest of US national security.

The White House said in Obama's call to el-Sissi, he "explained that these and other steps will help refine our military assistance relationship so that it is better positioned to address the shared challenges to US and Egyptian interests in an unstable region, consistent with the longstanding strategic partnership between our two countries." The White House said Obama also reiterated US concerns about Egypt's continued imprisonment of activists and encouraged increased respect for freedom of speech and assembly.