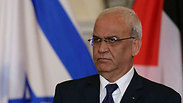 Saeb Erekat. Practical moves to come
Photo: AFP
The Palestinians officially joined the International Criminal Court at The Hague on Wednesday, a move initiated by Palestinian President Mahmoud Abbas after the failure of the US-brokered peace talks last year.
The televised broadcast in December of Abbas signing applications to join dozens of international institutions, including the ICC, prompted an angry response by Israel, which in January froze the transfer of millions of dollars in tax revenue that Israel had collected for the Palestinians.
The revenues were only transferred recently, in what Ynet revealed to be a secret deal in which Israel would end its freeze on handing over the money in return for a Palestinian suspension of plans to charge Israel with war crimes at The Hague.
Senior Palestinian official Saeb Erekat said Monday that the ICC had already begun a preliminary examination of alleged Israeli crimes.
Erekat said that the court had started investigating Israel's actions during the Gaza operation last summer, Turkey's Andolu agency reported.
"The legal and technical committees have been extensively working on finalizing the two files," Erekat was quoted as saying. "We will conduct all practical moves directly after Palestine is officially declared an ICC member on Wednesday."
Related articles:
ICC Chief Prosecutor Fatou Bensouda has already launched a preliminary review to determine if there are grounds for an investigation of possible war crimes in the West Bank, Gaza and East Jerusalem.
Prosecution spokeswoman Florence Olara said there are "no timelines" for how long a preliminary examination can take. Some have taken months, others are continuing after years.
Two senior Palestinian officials said the Palestinians will wait for the outcome of that review - which can take months or years - before considering further action. They spoke on condition of anonymity because they were not authorized to discuss Palestinian strategy.
At the end of last year, the Palestinians accepted the court's jurisdiction dating back to June 2014, to ensure that last summer's Gaza war between Israel and the militant group Hamas will be included in any review.
Palestinian Foreign Minister Riyad al-Maliki was meeting with court officials Wednesday, in a move that was largely ceremonial.
Maliki also told Palestinian radio on Wednesday morning that it would take a while for the ICC to start handling the Palestinian war crimes claims. "I don't want to disappoint my people, but the court's procedures are slow and long and we might run into difficulties and challenges that could last years," he said.
Court membership could help shift focus to Israel's settlements as a legal and not just a political issue, said Alex Whiting, a former official in the international prosecutor's office.
William R. Pace, convenor of the Coalition for the ICC which supports and promotes the court's work, said Palestinian membership "gives hope to victims in both Palestine and Israel that they might see justice done and the conflict brought to a peaceful end."
Israel vehemently opposes Palestinians joining the court. Foreign Ministry spokesman Emmanuel Nahshon said unilateral Palestinian moves are "absolutely counterproductive" and will make it harder to resume negotiations.