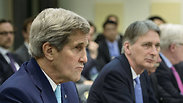 John Kerry in Lausanne
Photo: AP
Eyes bleary from lack of sleep, senior diplomats from the six countries negotiating with Iran huddled Thursday in strategy sessions meant to advance the pace of agonizingly slow nuclear talks. Iran's foreign minister said the sides were close to a preliminary agreement, but not yet there.
The talks resumed several hours after a flurry of marathon overnight sessions between Secretary of State John Kerry and Iranian Foreign Minister Mohammad Javad Zarif, as well as other meetings among the six powers negotiating to curb Iranian nuclear programs that could be used to make weapons. Iran denies any interest in such arms and wants a deal that will quickly lift economic sanctions stifling its economy.
Zarif said Iran and the six world powers have made "significant progress" at the marathon all-night nuclear talk sessions, but noted that an agreement still remains to be written, adding there is not yet a "final result."
Asked if that would be possible during the day, Iranian nuclear chief Ali Akbar Salehi said "the sunrise is just ahead."
With even a vague outline of an Iran nuclear deal eluding their grasp, negotiators went into double overtime Wednesday night and Thursday morning in a marathon attempt to find common ground for a more important task – forging a final deal by the end of June.
Iran and six world powers had cited progress in abandoning their March 31 deadline for the basic understanding that would prepare the ground for a new phase of negotiations on a substantive deal. But as differences persisted into late Wednesday, the State Department announced that Secretary of State John Kerry was postponing his departure and would remain until at least Thursday morning.
At around 6 am local time Thursday, State Department spokeswoman Marie Harf tweeted that the talks had broken after an all-night session and would resume in a few hours.
The talks – the latest in more than a decade of diplomatic efforts to curb Iran's nuclear prowess – hit the weeklong mark on Thursday, with diplomats from the five permanent members of the UN Security Council and Germany scrambling to reach a framework accord with Iran.
"We continue to make progress but have not reached a political understanding," Harf said in announcing Kerry's decision.
German Foreign Minister Frank-Walter Steinmeier said negotiators were still facing a "tough struggle."
A French diplomat said French Foreign Minister Laurent Fabius was heading for Lausanne less than a day after he departed. Asked why, the diplomat referred a reporter to the minister's comments earlier in the day when he said he would come back if there were chances for a deal.
At the same time, Iranian Foreign Minister Mohammed Javad Zarif accused his country's negotiating partners, particularly the US, of having "defective" political will in the talks.
"I've always said that an agreement and pressure do not go together, they are mutually exclusive," he told reporters. "So our friends need to decide whether they want to be with Iran based on respect or whether they want to continue based on pressure."
The negotiators' intention is to produce a joint statement outlining general political commitments to resolve concerns about the Iranians' nuclear program in exchange for relief of economic sanctions against Iran. In addition, they are trying to fashion other documents that would lay out in more detail the steps they must take by June 30 to meet those goals.
But Iran has pushed back, demanding a general statement with few specifics. That is politically unpalatable for the Obama administration, which must convince a hostile Congress that it has made progress in the talks so lawmakers do not enact new sanctions that could destroy the negotiations.
By blowing through self-imposed deadlines, Obama risks further antagonizing lawmakers in both parties who are poised to take their own action to upend a deal if they determine the president has been too conciliatory.
The initial response to the extensions from Republicans suggested they had already come to that conclusion.
"It is clear, the negotiations are not going well," said Sens. John McCain and Lindsey Graham in a statement. "At every step, the Iranians appear intent on retaining the capacity to achieve a nuclear weapon."
Iran's Zarif insisted the result of this round of talks "will not be more than a statement." But a senior Western official said Iran's negotiating partners would not accept a document that contained no details. The official was not authorized to speak to the negotiations by name and spoke on condition of anonymity.
Deputy Iranian Foreign Minister Abbas Araghchi named differences on sanctions relief as one dispute – but also suggested some softening of Tehran's long-term insistence that all sanctions be lifted immediately once a final deal takes effect.
He told Iranian TV that economic, financial, oil and bank sanctions imposed by the US, the European Union and others should be done away with as "the first step of the deal." Alluding to separate UN sanctions, he said a separate "framework" was needed for them.
Araghchi has spoken of such an arrangement before. But both Supreme Leader Ayatollah Ali Khamenei and Iranian President Hassan Rouhani have since demanded full and total sanctions lifting, and the floating of the approach now suggested an Iranian shift.
Araghchi also rejected US demands of strict controls on Iran's uranium enrichment-related research and development, saying such activities "should continue."
The US and its negotiating partners want to crimp Iranian efforts to improve the performance of centrifuges that enrich uranium because advancing the technology could let Iran produce material that could be used to arm a nuclear weapon much more quickly than at present.
The additional documents the US wants would allow the sides to make the case that the next round of talks will not simply be a continuation of negotiations that have already been twice extended since an interim agreement between Iran, the United States, Russia, China, Britain, France and Germany was concluded in 2013. President Barack Obama and other leaders, including Iran's, have said they are not interested in a third extension.
Meanwhile, the White House says new sanctions could not only scuttle further diplomatic efforts to contain Iran's nuclear work but possibly lead Israel to act on threats to use military force to accomplish that goal.
Prime Minister Benjamin Netanyahu, who has campaigned tirelessly for months against the emerging agreement, said it would "ensure a bad deal that would endanger Israel, the Middle East and the peace of the world."