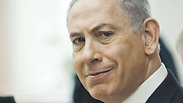 Benjamin Netanyahu
Photo: AFP
Prime Minister Benjamin Netanyahu urged anew on Thursday that world powers seek to "significantly roll back" Iran's nuclear capabilities under any deal achieved in continuing talks, as officials signaled an outline for an agreement had been reached.

In a message posted on the social media site Twitter after reports that talks for a deal to rein in Iran's program would continue through June, Netanyahu reiterated Israel's demands that Iran "stop its terrorism and aggression."

He attached a diagram to his tweet showing Tehran's involvement in Middle East conflicts, including Yemen, Iraq, Lebanon and Egypt, while talks were under way in Lausanne.

"Any deal must significantly roll back Iran's nuclear capabilities," said Netanyahu, who has been critical of the deal being negotiated with Tehran, doubting it would achieve Israel's goal of preventing Iran from attaining a capability to acquire nuclear weapons.

Meanwhile, Iranian President Hassan Rouhani said key parameters had been agreed in Tehran's nuclear talks with major powers, a post on his Twitter account said on Thursday.

The message added that drafting of an agreement would start immediately and would end by June 30.

Earlier, Western and Iranian officials at the talks said they would conclude with a joint statement announcing that enough progress had been reached to allow further negotiations.

"Agreement on framework for final agreement reached. Press conference following," Germany's foreign ministry said on Twitter.

Iran's Foreign Minister Javad Zarif Tweeted: "Found solutions, ready to start drafting immediately".

A Western official said it was still not clear how much detail would be released about the degree of political understanding between Iran and the major powers.

The joint statement would be issued by Zarif and EU foreign policy chief Federica Mogherini, who has acted as a coordinator for the six powers – Britain, China, France, Germany, Russia and the United States. The powers are negotiating with Tehran to prevent it from acquiring the means to develop a nuclear bomb.

Representatives of all the sides sat for a full session of talks at around 4:00 pm GMT on Thursday, and officials said they expected the statement around an hour later, although it could be delayed.

Zarif and Mogherini would release their statement and US Secretary of State John Kerry would then hold a news conference to explain the outcome. It would wrap up eight days of marathon talks, extended after a deadline of midnight on Tuesday.

Reuters and the Associated Press contributed to this report.