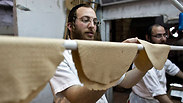 Preparing matzoh
Photo: Reuters
This Friday night Israel and Jews around the world will mark Passover – known as the holiday of liberty – by gathering around their dining tables to recite the story of Exodus.
Heavy traffic during the hours leading to the Seder – the traditional Passover dinner - has become as much of a tradition as the burning of chametz – or leavened products – which the bread-free holiday demands of religious Jews.
Jewish communities outside of Israel also prepared for the important holiday. The easternmost location in which Chabad operates -- Queenstown, New Zealand -- will be the first to celebrate. The Chabad House expects 200 participants in its Seder, mostly Israelis, in this town popular with Israeli backpackers.
In Berlin, there will be more than one Chabad Seder. The largest will be at the Marriott Hotel in Potsdamer Platz, and will be attended by about 400 people. There are about 40,000 Jews living in the German capital, of which about 11,000 are haredi.
In Anchorage, Alaska the Seder will begin at 10:30 PM, as darkness will only fall around 10 PM. Chabad's Alaska campus expects about 100 people to attend the Seder.
There will not be a communal Seder at Toronto's Chabad House, but the center has been finding families to host other families. Around 85 families have already been matched, and the center expects the total to reach 150.
Shabbat will usher in the holiday at 6:24 pm in Jerusalem, 6:39 in Tel Aviv, 6:31 pm in Haifa and 6:45 pm in Be'er Sheva.