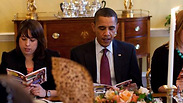 President Obama reads Passover Haggadah
Despite his increasingly strained ties with Israel, US President Barack Obama has a soft spot for Passover - a holiday he connects with the civil rights movement. Keeping in line with his tradition, Obama and the first lady hosted the annual White House Seder.
Held for the seventh year in a row, the first family invited top Jewish officials and staff to join them in retelling the story of Passover in what the White House described as "the Israelites' arduous journey through the desert from slavery in Egypt to liberation in the Promised Land."
They joined their Jewish guests in performing the Seder rituals and, following the Haggadah's command that we see ourselves as though we personally were liberated from Egypt, they acknowledged how this story has inspired generations of Americans in the struggle for civil rights.
And what's a Seder without food? Continuing with the White House tradition of having a guest Jewish chef. Susan Barocas – and filmmaker and foodie – assisted White House chef Cris Comerford in preparing the meal, bringing new treats to the kosher menu, meshing traditional recipes were combined with family recipes provided by several of the Seder's attendees.
In pluralistic fashion, the meal consisted of food from both the Ashkenazi and Sephardic traditions: For example, the haroset was made in Ashkenazi fashion while the haroset was served in Sephardic form.
The guests also tried the classic Chicken soup with matzoh balls (kneidlach), beet and butternut squash salad and sauté of green onions and radish - all courtesy of the Jewish mothers and grandmothers of Obama's staff and even Massachusetts State Senator Eric Lesser, whose mom made the carrot soufflé.
For the main course, the first family had a savory holiday brisket, seared salmon with roasted artichokes and chicken with preserved lemons and green olives.
For desert, guests ate a raspberry ganache, courtesy of Jewel Chaudhary, the mother of the White House's official video photographer - Arun Chaudhary - and triple layer chocolate macaroon cake.