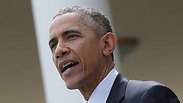 President Obama
Photo: AFP
WASHINGTON - US President Barack Obama assured Americans on Saturday that a newly negotiated framework for a nuclear pact with Iran was a "good deal" as he sought public support for a diplomatic breakthrough that many in Congress oppose.

A day after placing calls to top US lawmakers to urge support for the agreement, Obama pressed his case that the deal would ensure Washington's longtime foe would not be able to build a nuclear weapon.

Obama's weekly radio/internet broadcast (צילום: רויטרס)

"It's a good deal, a deal that meets our core objectives, including strict limitations on Iran's program and cutting off every pathway that Iran could take to develop a nuclear weapon," Obama said in his weekly radio and Internet address, broadcast on Saturday.

"This deal denies Iran the plutonium necessary to build a bomb. It shuts down Iran's path to a bomb using enriched uranium," he said.

The White House hopes support from the US public for its negotiating efforts will help sway skeptical lawmakers. The president and administration officials will be engaged in a difficult sales pitch in the coming weeks and months.

Related stories:

Obama completed calls to John Boehner, the Republican speaker of the House of Representatives, as well as House Democratic Leader Nancy Pelosi, Republican Senate Majority leader Mitch McConnell and Senate Democratic Leader Harry Reid, by Friday afternoon, the White House said.

In his address, the president noted that the deal would commit Iran to inspections and transparency for many years.

"This is a long-term deal, with strict limits on Iran's program for more than a decade and unprecedented transparency measures that will last for 20 years or more," he said.

The framework, which was agreed on Thursday after eight days of talks between Iran and six world powers in Switzerland, clears the way for a final agreement to allay Western fears that Iran could build an atomic bomb. It would include lifting economic sanctions on Tehran in return.

Negotiators will seek to seal a final deal by the end of June. Obama noted that it could still come apart.

"Success is not guaranteed," he said. "But today we have an historic opportunity to prevent the spread of nuclear weapons in Iran, and to do so peacefully, with the international community firmly behind us."