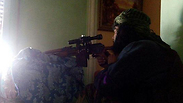 M, a resident of the Palestinian refugee camp Yarmouk, sounds despondent. He was born in the camp, on the outskirts of Damascus, and has lived there for more than 30 years. He, his wife and two children, along with thousands of others, are now at the mercy of Islamic State.

"Today I walked through the bombs and sniper fire to feed my children," he tells Ynet. "You have to understand, my neighbor went to get food for his children, was shot by a sniper and died. Today we buried him. That's how it here: If you want to feed your children, you need to take your funeral shroud with you. There are snipers on every street, you are not safe anywhere.

Related articles:

Thousands of Palestinians live in Yarmouk, the descendants of Palestinians who fled Israel upon the establishment of the state in 1948. They are now caught between a rock and a hard place: on the one hand Bashar Assad's air force is launching barrel bombs in the area in an attempt to eliminate his opponents, and on the other side is fierce fighting between rebel groups – the brutal Islamic State and the Al-Nusra Front, al-Qaeda's arm in the country. The PLO reported Sunday that 2,000 people have been evacuated from Yarmouk - but thousands of others refuse to leave.

Al Jazeera reported Sunday afternoon that the Islamic State had begun to withdraw from the camp. This has not yet been verified, but it's hard to believe the brutal Jihadists, who last week captured more than 90% of Yarmouk, would give up so easily on the camp that is the gateway to the Syrian capital. On Sunday, Islamic State members posted videos online of themselves touring the refugee camp.

"What am I at the end of the day? I am a citizen who wants to remain in his home and live with dignity, is that forbidden? My kids want to have the basic things that you have in every home - bread, pita. Imagine what it is to live for three years on only parsley, radish, rice and lentils from boxes."

"There is no choice but to call on Israel for help; the Israelis are more compassionate than the Arabs," M says, quoting a joke that had circulated in the desperate refugee camp for years, and recently found new life.

"This afternoon there was a massive lull in the fighting, but the fire continues. We get it from all sides: Islamic State has captured the camp, other militias open fire in the streets, the Assad regime is bombing their positions. And us, we have no connection to any party. Everyone here is afraid, waiting for redemption. Islamic State is already taking heads off and throwing them in the streets. Allah would not want to see that."

M believes Islamic State wants to annex the camp to the neighborhood of Hajar al-Aswad on the outskirts of Damascus, which it has already seized, and declare the area as part of an Islamic emirate. But with the terrible reality to which camp residents have become accustomed in the four years of civil war in Syria, they are no longer sure Islamic State is the worst thing they could wish for.

"Even if they throw out Islamic State – we go back to the same situation we were in before: Back to accepting the humiliating UN aid packages, packages which barely last a week and which we get only with the help of a broker."

He wants to leave, but does not dare. "How can I leave? Where would I go? I should sleep on the street? I'd rather stay at home. Until now we managed to survive despite the hunger and bombings, so there is still hope that our lives can improve.

"If I escaped from here – out there I would have to fight or be arrested, one or the other. The only solution is for the world for to provide us with a safe corridor so they can get us out of here without Syrian opposition snipers shooting at us, without Assad's security forces arresting us. At the moment? It's better for us to be thrown into the sea than to live as we live now."

A, another Yarmouk resident, also cannot understand why we think the easiest solution is to get up and go.

"Go where, exactly?" he asks. "All those who left are forced to live in mosques or schools. In the end I'm equally afraid of Islamic State and the Assad regime. I cannot leave the house, armed Islamic State and Al-Nusra Front are deployed in the streets and barrels of explosive fall from Assad's helicopters. Meanwhile we are alive, but the world needs to get us out of here under international protection."

In recent days, senior Palestinian Authority and PLO officials fiercely condemned Islamic State and other belligerents in the camp, and has urged the world to intervene to save the thousands of Palestinians still in the camp. To M and A, and possibly thousands of others left in Yarmuk, that's not convincing. They do not have high hopes of the leaders of the Palestinian people.

"Even before this they did nothing but talk," says A. "We have no one to rely on except on Allah."