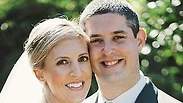 Oren Shur, the Hebrew-speaking son of an Israeli, was hired on Monday as a media director for Hillary Clinton's still-unannounced 2016 presidential campaign.

Avi Shur, Oren's father, resides in Silver Springs, Maryland, near Washington, DC. He sounded excited in a Tuesday phone call.

"How do you already know?" he asked when congratulated on his son's appointment as Director of Paid Media.

"Oren was born in the United States, but I am fully Israeli. His mother is American. I can't talk about the appointment, you understand, we are very happy about it but I will not talk about my son's work."

In his early thirties, Oren Shur is considered as a rising star in the Democratic Party. In the last few years he has worked on campaigns for Democrat governors He has a degree from George Washington University.

He lives with his wife, whom he married in a Jewish ceremony, in Washington. He speaks Hebrew and has visited Israel several times.