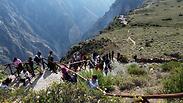 Machu Picchu area
Photo: Joseph Jackson
An Israeli tourist died in a zip line accident in Peru on Wednesday. The tourist, a 24-year-old from central Israel who was traveling in the country as part of his post-army trip, fell from an aerial runway ramp in the Machu Picchu area. The Foreign Ministry is currently investigating the matter. The man's family has been informed of his death.
Wednesday was a deadly day for Israelis abroad. In the afternoon hours, a 12-year-old Israeli girl on a Bat Mitzvah trip with her family in Thailand was killed in a fire that engulfed a ferry traveling in the Andaman Sea. There were a total of 104 people on the ferry at the time of the fire and 103 people, including many foreign tourists, have been rescued.
The Israeli girl was at first thought to have been rescued by another boat that was going to Phuket, but it was later found that she had died in the bathroom of the ferry.
"We will try to help (the family) as much as possible, in order to transfer the body as fast as possible to Israel. We came to be with them, to be the Israeli representation that could give them a hug and be with them during this extremely difficult time," said the Chabad representative to Phuket Eliezer Ashkenazi.
Police Col. Sompong Thip-apakul said the accident occurred on the Ao Nang Princess 5 ferry traveling from Krabi to Phuket, two of Thailand's most popular beach resort areas.
The incident took place at around 3:30 pm Thailand time, and according to reports the fire started at the stern of the ship, where the bathrooms are located. The captain of the ship said he told passengers to put on life vests and jump into the water. The ship then sank within minutes.
Also on Wednesday, reports emerged that a man found killed in the ruins of a Berlin church during the Easter weekend was an Israeli citizen.
Berlin police said the man, confirmed to be a 22-year-old from Petah Tikva, was found by passersby in the early hours of Sunday with "massive injuries to his head." Three people have come forward with information in the case, police said without providing further details.
A Berlin rabbi said Wednesday that the Israeli citizen had approached the Jewish community last week asking for food and a place to sleep.
Rabbi Yehuda Teichtal told The Associated Press that the Israeli was a "man in his early 20s who came to us during the day last Friday and didn't have a place to sleep and didn't have anything to eat."
The body was found with signs of severe violence, making it difficult to identify him, but a passport belonging to the Israeli citizen was found in his jogging pants.
The body was discovered in a ruined Franciscan monastery in the central Alexanderplatz district.
News agencies contributed to this report.