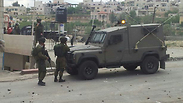 Clashes in Beit Omar
Photo: 24/7 News
A Palestinian was killed and two were wounded in clashes with the IDF, Palestinian sources said Friday.
Ziad Awad, 30, died during riots that broke out at the funeral of Jafaar Awad, a close relative who was released from prison a few weeks ago because of a terminal illness and died on Thursday. Ziad Awad, the cousin of the deceased former prisoner, was shot in the back by IDF fire, according to the Palestinians.
The funeral was held in the West Bank town of Beit Omar. Angry protests erupted, with mourners accusing Israel of responsibility for his death.
Thousands of people marched in the funeral procession in the village of Beit Ummar, and some pelted troops deployed nearby with stones, witnesses said.
Israeli soldiers retaliated by firing tear gas and rubber bullets before resorting to live rounds, the witnesses added.
The IDF spokeswoman said the soldiers at first used non-lethal "riot-dispersal means" but, with the Palestinians undeterred, resorted to shooting live small-caliber bullets. These were aimed at the lower body of the Palestinians targeted, she said, and soldiers had reported four hits. The Israeli army had heard of a Palestinian fatality in the incident and was investigating, she said.
The head of a Palestinian Authority body in charge of prisoner affairs, Issa Qaraqe, issued a statement alleging Jaafar Awad had died of "medical negligence" at the hands of Israeli prison authorities.
"Israel alone is responsible for his death," Qaraqe said in the statement, and called for an international probe.
Jaafar's father, Ibrahim Awad, told AFP before his son's death that Israeli prison authorities had given the 23-year-old man "an injection that made him ill and totally weakened him."
Israel's Prisons Service denied this and said the militant had been freed from custody three months ago.
Israel jailed Jaafar Ibrahim over "terrorist activity" and "membership in the Islamic Jihad" Palestinian militant group -- accusations denied by his family.
James Rawley, the United Nations' Deputy Special Coordinator for the Middle East, issued a statement after the reported death, saying he was concerned about the tensions around the West Bank. He added that the UN is calling for a full investigation into security incidents.
AFP and Reuters contributed to this report.